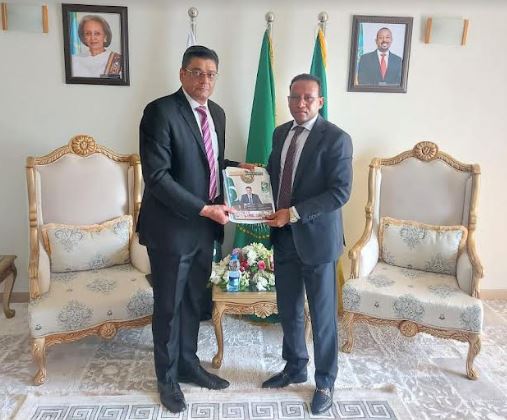 DNA
Islamabad, SEP 7: Jemal Beker, Ambassador of Ethiopia to Pakistan said that his country is keen to promote trade ties with Pakistan as increasing bilateral trade would be very beneficial to the people and economies of both countries. He said this while exchanging views with Muhammad Shakeel Munir, President, Islamabad Chamber of Commerce & Industry (ICCI) during his visit to Ethiopian Embassy.   
The Envoy said that Ethiopia is importing many products from China & India and added that Pakistan has a good opportunity to focus on the Ethiopian market to explore new opportunities of improving its exports. He said that Ethiopia is considering resuming direct flights with Pakistan that would improve people to people contacts and trade relations between the two countries. He said that Ethiopia is importing 80% of pharmaceutical products and Pakistani pharma sector investors should set up JVs in Ethiopia to meet the needs of its market and export surplus to African countries. He highlighted marble, pharmaceuticals, textiles and construction as potential areas of bilateral cooperation between Ethiopia and Pakistan. He said that ICCI should consider taking a business delegation to Ethiopia to promote connectivity with Ethiopian counterparts and explore business collaborations. He proposed that ICCI should sign an MoU with Ethiopian Chamber of Commerce to promote business linkages between the private sectors of both countries and assured that his Embassy would facilitate Pakistani entrepreneurs in exploring the Ethiopian market for business and investment.
Speaking at the occasion, Muhammad Shakeel Munir, President, Islamabad Chamber of Commerce & Industry said that Pakistan has made a Look Africa Policy to explore huge untapped region of Africa for trade and exports and close cooperation between Pakistan and Ethiopia would helpful in getting better access to African market. He said that many Pakistani products including marble & granite, pharmaceuticals, cement, leather, rice and sports goods can find a good market in Ethiopia and stressed that Ethiopia should focus on Pakistan for imports. He said that Pakistan and Ethiopia should consider negotiating a preferential or free trade agreement to promote trade relations up to their actual potential. He said that both countries should encourage regular exchange of trade delegations to explore all potential areas of mutual cooperation. He said that ICCI has already taken its delegations to Azerbaijan and UAE and would also consider taking a delegation to Ethiopia. He further said that ICCI would like to work closely with the Ethiopian Embassy to promote business relations between Pakistan and Ethiopia.