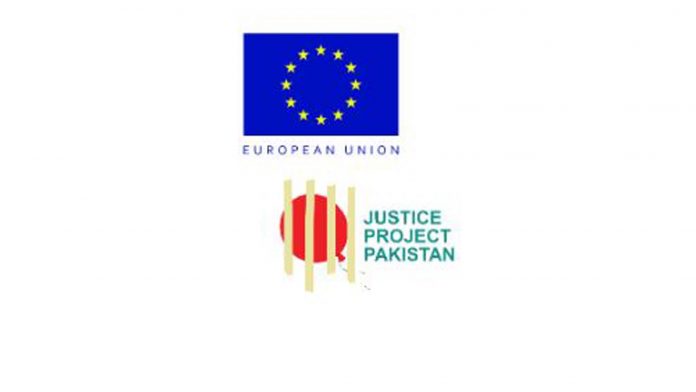 DNA
ISLAMABAD – The Delegation of the European Union (EU) to Pakistan on Friday hosted an exclusive live screening of a one-of-a-kind art performance on the eve of World Day against the Death Penalty. Titled 'Before The Sun Comes Up' and produced by Justice Project Pakistan, it was streamed live online featuring artists based in two different countries performing from their homes via Zoom.
The screening was attended by foreign dignitaries, including ambassadors from the European Union, civil society organizations and government officials. The Chief Guest at the event was Federal Minister for Law and Justice Barrister Dr. Muhammad Farogh Naseem.
"The call for the death penalty might come from an impulse in reaction to a horrific crime. But as a society, we need to reflect deeper on what justice really means and what needs to be done for such crimes not to happen again. The performance that premiered today invites us to enter this discussion," said European Union Ambassador Androulla Kaminara of the art performance that will be streamed live for the public on Saturday, October 10 on Dawn.com 6pm (GMT + 5) onwards.
"The EU holds a principled position against the death penalty in all circumstances and for all cases. It considers capital punishment to be inhumane, degrading and unnecessary. As a matter of fact, there is no valid scientific evidence to support that the death penalty deters crime more effectively than other punishments. Instead, it is the certainty of being caught and punished that serves as a deterrent and of course actions to prevent such crimes from happening in the first place," she added
Under its international commitments, namely the UN International Covenant on Civil and Political Rights (ICCPR), Pakistan has committed itself to limit the death penalty to the "most serious crimes," to allow for clemency petitions and to provide adequate protection for juvenile offenders and the mentally ill. This is one of the conventions linked to the GSP+ export regime offered to Pakistan.
Pakistan has one of the highest number of executions in the world. Since the de-facto moratorium on the death penalty was lifted in 2015, the country has executed 516 individuals. Pakistan also has over 4,000 individuals on death row – 15% of the world's death row population.
'Before the Sun Comes Up' is based on four original short stories of death row prisoners written by acclaimed Pakistani novelist and writer Mohammed Hanif. Narrated by actor and director Sarmad Khoosat, it also features a musician and a visual artist from Edinburgh, Scotland. The performance was conceived by Ryan Van Winkle and produced by Justice Project Pakistan, a non-profit legal action firm that represents the most vulnerable prisoners facing the harshest punishments at home and abroad. The performance will be streamed live on Dawn.com today (Saturday, October 10) at 6 pm PST.
Sarah Belal, executive director of Justice Project Pakistan, added, "We want to highlight flaws in our criminal justice system so viewers can witness the horrors of being on death row, particularly at a time when a pandemic has cut them off from the little interaction they were allowed earlier with the rest of the world. No one heard from these prisoners for nearly six months. So we decided to tell their stories through the pen of one of our country's most celebrated writers."