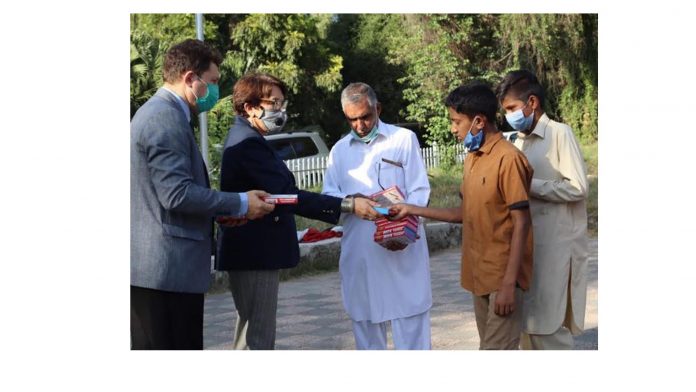 DNA
ISLAMABAD, Oct 5 – On World Teachers Day, Ambassadors and diplomats from the European Union met Master Ayub and his team of teachers who provide education to underprivileged children in F-6 sector of Islamabad.
During their visit, they discussed with teachers about their motivation to teach voluntarily and about the challenges they face in their daily work. To support the outdoor school, the visitors donated essential items such a notebooks, backpacks and pens to both students and teachers.
The purpose of the visit was not only to show support to Master Ayub's mission of educating children, but also to highlight the European Union's strong pledge to support and improve learning environments with those who are trying to help improve the state of education in Pakistan.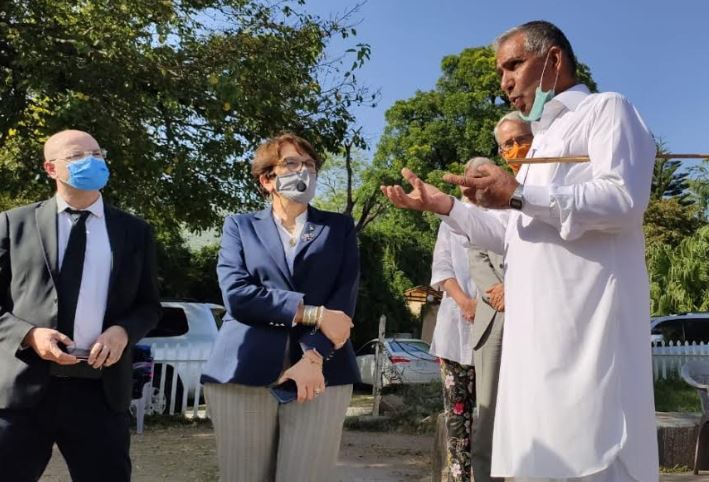 A firefighter by profession, Master Ayub has dedicated 30 years of his life to less privileged children in the hope of giving them a better chance at life. On his own initiative, he launched a school in a park. Today more than 200 children attend every day to get essential education from one of the 12 teachers in Master Ayub's informal school.
The teachers who are volunteering part time at Master Ayub's school believe those who have dedicated their lives to this profession deserve acknowledgment. "As it's said that if this profession holds the same respect as a father deserves, then teachers ought to be highly respected", said Muhammad Rukhsar, a teacher of Master Ayub's school.
Reflecting on World Teacher's Day, Ambassador of the European Union to Pakistan H.E. Ms Androulla Kaminara said, "It is inspiring to see the dedication of the teachers and eagerness of the students to learn. Even under these difficult conditions, outside, without shelter from the sun and rain, Master Ayub and his team are doing such an important work".
Ambassador of the Netherlands, Wouter Plomb, agreed pointing out that "World Teachers Day is also World Children Day. They give their students access to knowledge and skills which are essential for life."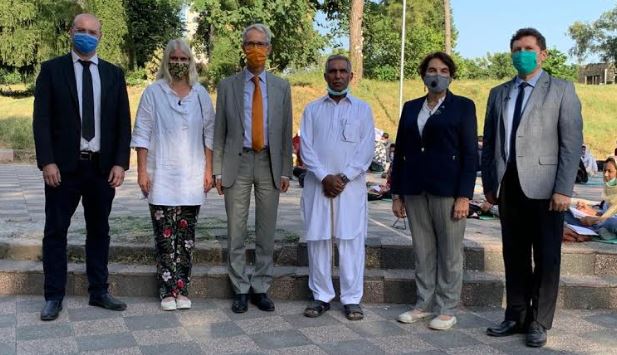 The Chargé d'Affaires for the Embassy of Romania, Adrian Miron, said, "Master Ayub is doing some amazing work. I would encourage him and others to continue this important duty that they have taken up, and to ensure that all children continue their journey to learn together and free of discrimination."
Maria Jameel, a teacher and former student of Master Ayub's school talked about some of the challenges they face on World Teacher's Day. "At Master Ayub's school some of the teachers are from among the students. Of course there is a big difference between a professional teacher and a student who just started teaching, but it is the dedication of both teachers and students that make up for the constraints that they are facing.
The EU is dedicated to improving education and has a successful and long history of supporting Member States' education and training policies. Erasmus Plus is an EU scholarship programme that has enabled hundreds of Pakistani students as well as teachers to pursue their educational ambitions across Europe.