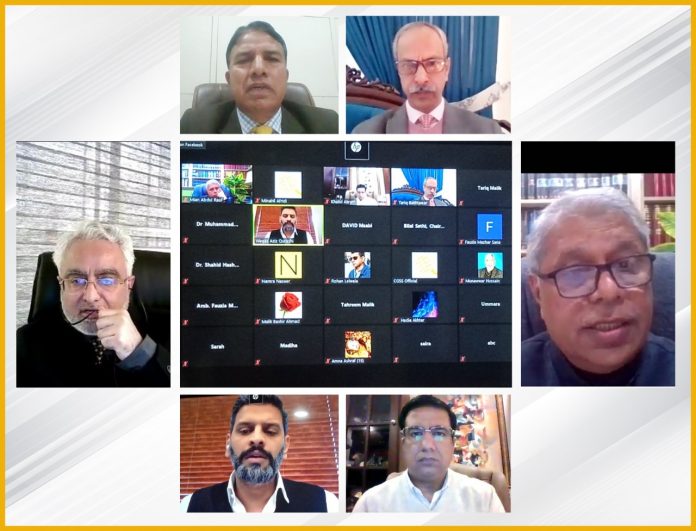 DNA
ISLAMABAD: The Center for Global & Strategic Studies (CGSS), Islamabad organized an Online Conference on, "Evaluation of India's Detrimental Attitude towards Peace and Stability in South Asia and beyond". The conference aimed to expose India's malicious and hostile acts in the region especially in Pakistan and Indian Occupied Kashmir. It also aimed to discussa pragmatic and sound approach towards India's multi-dimensional threats against Pakistan.
The conference was commenced with the welcome remarks fromMian Abdul Rauf, Former Advocate General, Islamabad High Court. He stated that we as Pakistanis have a key responsibility to highlight the truth behind India's false propagations.India has continued its prolonged agenda of destabilizing Pakistan. This conference is a great opportunity to discuss these issues in detail and formulate effective policy recommendations.
Mr. Tariq Bakhtawar, Former Director Anti-Money Laundering at the Securities and Exchange Commission of Pakistan discussed India's subversive activities of Money Laundering and Terror Financing.He highlighted that India is involved in sponsoring terrorism and financing terrorism against its neighbors, providing terrorists' outfits with finances, weapons, equipment, and training, etc. Indian sponsored terrorist activities include terrorist attacks at PC Gawadar, Agriculture University in Peshawar, Army Public School in Peshawar, Peshawar Police, Mardan Judicial Complex, and intrusions in Azad Jammu Kashmir and Gilgit Baltistan.
He also highlighted the controversial Citizenship (Amendment) Act that offers preferential treatment to non-Muslim immigrants from certain neighboring countries as they seek Indian citizenship on grounds of religious discrimination. He further highlighted the economic terrorism sponsored by India in its neighboring countries, including Pakistan, Afghanistan, and attempt over China.
He suggested that developing a long-term media strategy is imperative to effectively address media threats and wherevermaterial facts are misrepresented by Indian media, an effective response before the global community/ international agencies must be put forward by Pakistan. He concluded by emphasizing that Pakistan needs tostrategize its outlook and meet its international AML/CFT obligations considering the underlyinggeopolitical situation.
Prof. Dr. Muhammad Khan, Professor, Department of Politics and IR, International Islamic University, Islamabaddiscussed India's Undermining Sovereignty and Territorial Integrity in Neighborhood. He rightly pointed out that India has been playing a game of over-powering the neighbors. He mentioned the disintegration in 1971 that took place by provoking ethnic factor and creating hate against the federation of Pakistan through socio-political unrest and in its eastern wing (former East Pakistan). Despite its extreme act of disintegration of Pakistan, India continued conspiring against the state of Pakistan through its direct and indirect acts of destabilizing Pakistan through terrorism and extremism.
He highlighted that India has been waging a war against Pakistan in all fields; undermining its sovereignty and territorial integrity. Furthermore, the sovereignty and territorial integrity of two sovereign Himalayan states; Bhutan and Nepal have been constantly undermined by India ever since the 1950s. Commenting on the Indian hegemony in the Maldives he stated, the Maldives is being pressurized by India to part ways from the Belt and Road Initiative and its closer ties with China. He concluded by emphasizing that, Pakistan has been the sole obstacle against Indian subjugation of South Asia and its emergence as a major power.
Mr. Tariq Malik, Former Chief Technology Officer, GHQdiscussed 'Indian Chronicles' – How India got exposed in 5th Generation Warfare against Pakistan. he presented an in-depth analysis of Hybrid Warfare objectives. By presenting recent examples of India's attempts of fifth-generation warfare against Pakistan, he critically evaluated the psychological influence by India to create concocted virtual reality through dubious hybrid warfare propagandas on questions regarding two-nation theory, depicting Pakistanis as inferiors and other veiled cultural messages.
Furthermore, websites owned by Indians have been propagating against Pakistan by maligning their working performance in various departments. About 750+ fake media outlets, fake editors and journals, and over 550 fake domain names have been established by India to create a false perspective against Pakistan.Mr. Tariq Malik further highlighted the hidden messages from various political party media cells in Pakistan that serve the interests of our enemies. Moreover, several fake news channels and social media accounts were discovered, they aimed to internally reinforce pro-India and anti-Pakistan sentiments and presented a positive perception about India internationally.
Barrister Waqas Aziz Qureshi, Member Board of Experts, CGSS, and Senior Law Expert & Managing Partner at Transact Advisory Services discussed India's Secularism at Risk: Stark Violation of Human and Minority Rights Under BJP. He highlighted the human rights violations done by India against minorities, women, and children. He also stated that under the BJP government, since 2014, we have witnessed signaling by the State to private and non-state actors engaging invigilante justice, primarily targeted towards the Muslim community. He highlighted that, despite two reports of the Office of the High Commissioner for Human Rights (OHCHR), India has not repealed its Armed Forces (Jammu and Kashmir) Special Powers Act (AFSPA) 1990.
As a result, there has been no accountability for extrajudicial killings, disappearances, etc. perpetrated by Indian security forces.Since India's unilateral revocation of Arts. 35A and 370 on 5 August 2019 the State of India has used gender-based violence (GBV) as a weapon of war in the disputed region of Kashmir. Furthermore, several UN Special Procedures mandate-holders wrote to India on the rising violence against Dalit women due to multiple and intersecting forms of discrimination including gender, caste, and poverty.
Mian Abdul Rauf, Former Advocate General, Islamabad High Courthighlighted Legal prospects of holding India accountable for its acts of cross-border money laundering and terror financing. He highlighted that India has been involved in trying to sabotage Gwadar port and activities under CPEC. Many such activities are on the record where India has openly sabotaged all projects where Pakistan's interests were involved. Furthermore, India has breachedthe United Nations Charter on many occasions. He presented an in-depth analysis of the Indian Sponsored Terrorism in Pakistan and highlighted that India has been activelyassembling and financing Terrorist organizations to destabilize Pakistan.
Mian Abdul Rauf presented a detailed overview of the Legal Recourse that must be adopted. He stated that comprehensive legislation should be undertaken to ensure that all recipients of terror financing should be prosecuted and punished. Moreover, the United Nations General Assembly, UN Secretary-General, and the United Nations Security Council must be apprised of appropriate action at a global level. He also emphasized that in the right circumstances, India can be taken to the International Court of Justice for its grave violations of International Law and perpetrating State-Sponsored Terrorism.
In his remarks, Maj Gen Shahid Ahmad Hashmat HI(M), (Retd), Senior Member Advisory Board, CGSS & Former High Commissioner of Pakistan to Sri Lanka highlighted that this conference has highlighted some important aspects. He said there are two major problems of India, that are creating issues for not only Pakistan but other countries as well. India is obsessed with a hegemonic mindset, they want to dominate and crush their neighbors. Secondly, the Hindutva and RSS mentality where they want to establish Hindu dominance of their culture and religion. Muslims and other minorities of India including Dalits are being brutally treated in India.
The conference was moderated by Mr. Khalid Taimur Akram, Executive Director, CGSS,and was attended by 70participants from various fields. It was also viewed by more than 300people on various social media networks through live streaming.