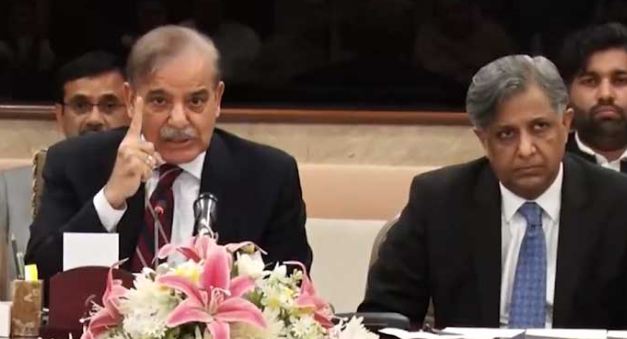 ISLAMABAD: The federal cabinet Tuesday rejected the Supreme Court's "unanimous verdict" on the case pertaining to the postponement of election in Punjab and Khyber Pakhtunkhwa (KP), sources told Geo News.
The development came during the cabinet's meeting, chaired by Prime Minister Shehbaz Sharif, held after a three-member bench — headed by Chief Justice Umar Ata Bandial and comprising Justice Ijaz Ul Ahsan and Justice Munib Akhtar as members — announced the apex court's verdict on the matter which it had reserved a day earlier.
Announcing the verdict on a plea filed by the Pakistan Tehreek-e-Insaf (PTI), the country's top court declared the Election Commission of Pakistan's (ECP) decision to postpone polls in Punjab and KP from April 30 to October 8 as 'null and void'.
The Supreme Court, in its verdict, states that the ECP's order dated March 22, 2023, is declared to be unconstitutional, without lawful authority or jurisdiction, void ab-initio, of no legal effect, and is hereby quashed.
"The Supreme Court's decision is a minority verdict, which is why the cabinet rejects it," the sources in the federal cabinet said.
The top court's decision, as per the sources, is not enforceable.
The government would raise its voice in parliament regarding the verdict, the sources added. It was also decided in the meeting that the coalition parties in power will talk about the apex court's decision in parliament, they added.
In the meeting, the cabinet decided to present its position on the verdict.
'Last blow of conspiracy'
Commenting on the SC decision, Pakistan Muslim League Nawaz (PML-N) Senior Vice-President and Chief Organiser Maryam Nawaz took to her Twitter and wrote that today's verdict is the last blow of the conspiracy which began by "rewriting the Constitution and presenting the Punjab government on a plate" to the bench's blue-eyed boy, Khan.
Maryam termed the three-member bench as "Khan's facilitators" and said that this was done so he could be reselected under their presence and supervision.
"This bench has taken responsibility for the work done by [Lt Gen] Faiz [Hamid], [ex-CJP Asif Saeed] Khosa and Saqib Nisar in 2018. A majority of the Supreme Court revolted against this appalling and brazen facilitation and one-man show," the PML-N scion tweeted, stressing that it is now time for the parliament to stop this facilitation using its "constitutional and legal hands".
She further stated that it is not enough for the federal cabinet to reject the verdict. The PML-N politician wrote that those who tried to impose the "favourite" by defying the Constitution and law should be brought to the rostrum.