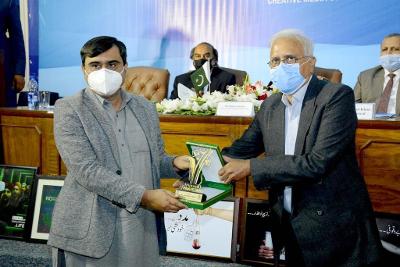 Fifth "purazm" award ceremony held by ministry of information in Islamabad. Journalist Javed Malik was awarded first prize. Secretary Shahira Shahid congratulated the award winner. Islamabad: Fifth purazm award ceremony 2021 under Pakistan Peace Collective, research project of ministry of information was held at Information Services academy Islamabad.
In professional category of text story, a renowned journalist Javed Malik was awarded first prize. On other categories, Fazle Khaliq, Sheeza Mustaseem, Sundas Mehboob, Seema Iqbal, Waleed Akram, Shahrukh Khan, Musa Yawari, Omer Nafees, Ahmed Zolaid, Anam Naseer, Zaheer Mukhtar, Furqan Azeez, Iqra Imtiaz, Muhammad Talal and Ghulam Abbas were awarded with prizes.
During the introductory speech, CEO of the project Mian Bashir Anwar apprised the participants that more than one thousand shortlisted documentary films, stories, pictures and digital posters were judged by the jury consisting of experts like Nadeem Omer Tarar, Katrina Hussain, Professor Kamran Butt and Haroon ur Rasheed.
The jury finalized the winners with delicate observation. Secretary information Miss Shahira Shahid congratulated the winners and told the participants that the ministry would take more such steps to bring forward the real talent so that we could introduce our talented writers, filmmakers and experts of digital work to the world. This would be helpful in projecting positive image of Pakistan.