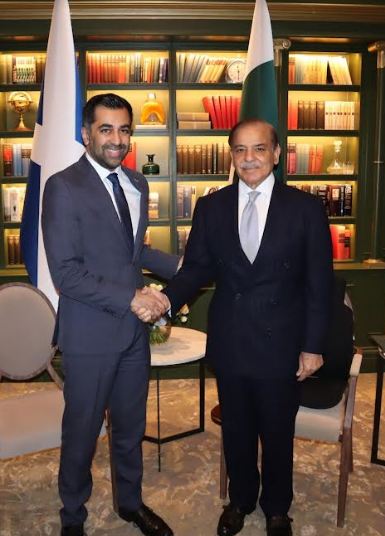 First Minister of Scotland, Humza Yousaf called on Prime Minister Muhammad Shehbaz Sharif in London today. 
LONDON, MAY 7 /DNA/ – Felicitating the First Minister on his election to this important position, the Prime Minister observed that Yousaf's election underscored the important and positive contribution of the British Pakistani community to the progress and development of Scotland and across the UK. He wished him success in the discharge of his responsibilities.  
The two leaders agreed to further strengthen historic ties between Pakistan and Scotland, including in the domains of trade, investment, education, water management, wind & solar technology and people to people links. The two sides agreed to work collaboratively to promote joint ventures in education, skills development and renewables. They also explored ways to leverage the Scottish Pakistani entrepreneurs to promote investment in Pakistan. They also agreed to work collaboratively to address the challenge of climate change.
In this regard Pakistan suggested holding an Investment Conference in Scotland and separately arrange a road show to showcase Pakistan's renewable energy potential in Scotland.
The Prime Minister further thanked the Scottish government for its generous contribution to floods relief last year.
The Prime Minister extended a cordial invitation to Mr. Yousaf to visit Pakistan, which he happily accepted.
Mr. Yousaf leads the Scottish National Party, and was elected in March by the Scottish Parliament to head the Scottish government. He is the first British national of Pakistani heritage to hold the coveted position.