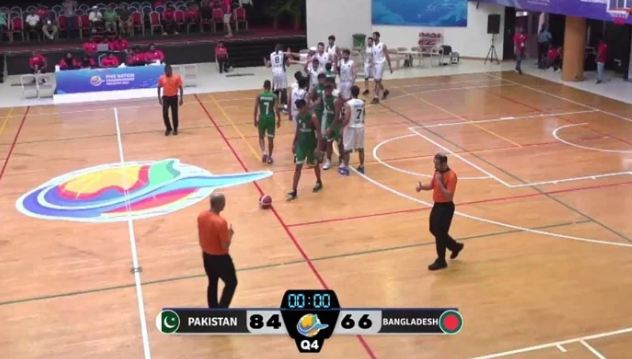 Pakistan basketball team on Sunday thrashed the Bangladesh side 84-66 in their last group match during the ongoing five-nation tournament in Maldives.
With the victory, Pakistan have also secured their place in the semi-finals.
Pakistan dominated Bangladesh from the very first moment of the game scoring 20 points against 15 in the first quarter. However, Bangladesh showed resistance in the second quarter as they finished by a score of 37-34 in their favour.
In the third quarter, Pakistan pushed Bangladesh against the wall as they only managed to score seven points while Pakistan scored 22 points to extend their lead to 56-44.
Pakistan continued their dominance in the last quarter as well and won the match by 84-66 and secured a place in the semi-finals.
Pakistan's Zain ul Hasan Khan and Muhammad Umair Jan scored 19 and 19 points respectively. Abdul Wahab scored 16 points and Ziaur Rahman scored 11 points. Pakistan's Shehbaz Ali, Umeer and Zia scored three 3-points each.
The win against Bangladesh was the men in green's third successive victory as they had earlier defeated the teams of Bhutan and Maldives.
Pakistan lost their first game against Nepal by a close margin of 66-62. But then they defeated Maldives and Bhutan 65-63 and 76-53 respectively.
The semi-final of the event will be played on June 20 while the final will be on June 22.
It must be noted here that Pakistan are participating in an international event after seven years.
Squad
Mohammad Shahbaz Ali, Abdul Wahab, Mohammad Umair Jan, Zain-ul-Hassan Khan, Mohammad Shahid, Imad Ahmad, Zia-ur-Rehman, Saqibullah Mehsood, Mehtab Akram, Shiraz Aslam
Team officials: Malik Mohammad Riaz (head coach), Umar Mahmood (coach), Ahmad Ali Tipu (manager).