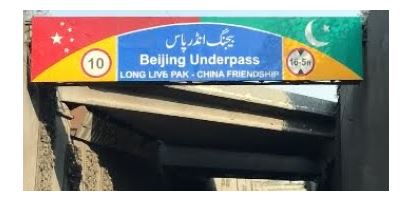 ISLAMABAD, JAN 31 /DNA/  – As a symbol of immortal friendship between China and Pakistan, out of many flyovers and underpasses sprawled in the length and breadth of Pakistan, two underpasses have been named after the name of two mega cities of China.
These underpasses are called "Beijing Underpass" and "Shanghai Underpass". Beijing Underpass is located in Lahore, a metropolitan of Punjab gaining fame as an emerging economic hub of Pakistan. Shanghai Underpass is situated in Okara, a city of crop and dairy development.
The 1.3-kilometer-long Beijing underpass, completed at a cost of Rs 3.6 billion, links Dharampura to Mughalpura, one of the most busy main arteries of Lahore. Earlier it was called Chubacha Underpass.
The project had been renamed in order to commemorate China's contribution to the development of projects in Pakistan.
Former CM Punjab Shahbaz Sharif termed the Beijing Underpass as a masterpiece of construction and an emblem of Pak-China friendship.
Shanghai Underpass, 600 meters long, was inaugurated by the acting consul general of Lahore Mr. Peng Zhengwu accompanied by Chinese consulate staffers and the Chinese business community.
Civil society, local community, politicians chanted the slogan of Pak-China friendship and desired to rename more underpasses and flyovers on the name of other Chinese cities.
With the unvailing of "Shanghai Underpass" in downtown Okara, the Municipal Corporations office presented Mr. Peng the "Key of City."=DNA
==========