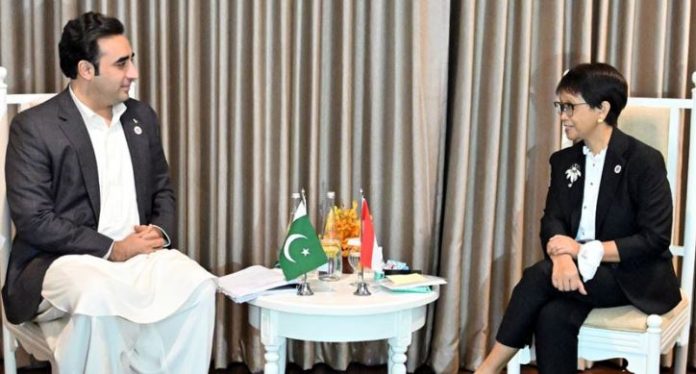 Phnom Penh /DNA/ – Foreign Minister Bilawal Bhutto Zardari held a meeting today with H.E Retno Marsudi, Foreign Minister of Indonesia in Pnom Penh, Cambodia.
The two Foreign Ministers expressed satisfaction over the pace of steady progress in bilateral relations. They agreed on the importance of enhanced bilateral exchanges and regular dialogue at all levels to further solidify and provide momentum to the relationship.
The two Foreign Ministers also discussed the important role played by women in Pakistan and Indonesia and committed to work together for women's rights and empowerment.
Foreign Minister Bilawal Bhutto Zardari thanked the Indonesian Foreign Minister on the timely support and facilitation by the Indonesia government in release of Palm Oil exports to Pakistan.
The two Foreign Ministers discussed issues of concern for the OIC and agreed that as the two largest Islamic countries Pakistan and Indonesia need to consult closely including in the framework of OIC and other international organizations.
Foreign Minister Zardari and Foreign Minister Marsudi also agreed on the need to further expand cultural exchanges and strengthen people-to-people contacts in all dimensions to the mutual benefit of the two countries.They agreed to remain engaged on issues of common interest.