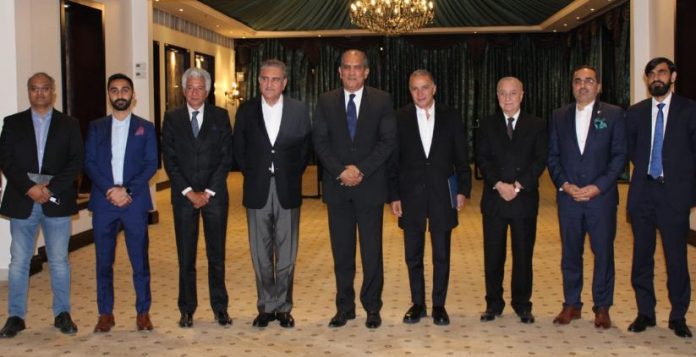 CAIRO, Egypt: Upon his arrival in Cairo for a three-day visit, the Foreign Minister Shah Mahmood Qureshi met leading Egyptian businessmen and investors at a dinner on February 16.
While talking to them, the foreign minister outlined the government's focus on Economic Diplomacy and the steps taken to create a favorable business and investment climate in Pakistan.
The foreign minister underscored the opportunities existing in diverse areas in Pakistan for Egyptian businessmen and investors, in particular in the energy, construction, pharmaceutical, tourism, Informational Technology, and logistics sectors.
Qureshi stressed that leading multinational companies were consistently showing higher profits in Pakistan, as compared to their global average.
The minister emphasized the importance of enhanced collaboration between business communities of the two Countries. He accorded priority to the revival of the Pakistan-Egypt Joint Business Council (JBC).
The Egyptian businessmen and investors shared their perspectives on various opportunities and suggested ways to enhance bilateral cooperation in trade and investment.
The delegation comprised key Egyptian investors including El Sewedy Electric, which is keen on investing in Pakistan's power distribution sector; and the tech-startup Swvl.
Other businessmen included the Secretary-General of Federation of Egyptian Chambers of Commerce, Chairman of Foreign Trade Association, and Chairman Expolink.
Separately, the President and CEO of El-Sewedy Electric Ahmed El Sewedy also met the Foreign Minister Shah Mahmood Qureshi.
In the meeting, he briefed the foreign minister about the company's investment strategy and aspirations in Pakistan.
The CEO El-Sewedy Electric said that a team of experts would soon visit Pakistan to identify priority areas for investment.
The Economic Diplomacy remains a priority for the Foreign Minister Shah Mahmood Qureshi during his ongoing visit to Egypt from February 16-18, 2021.