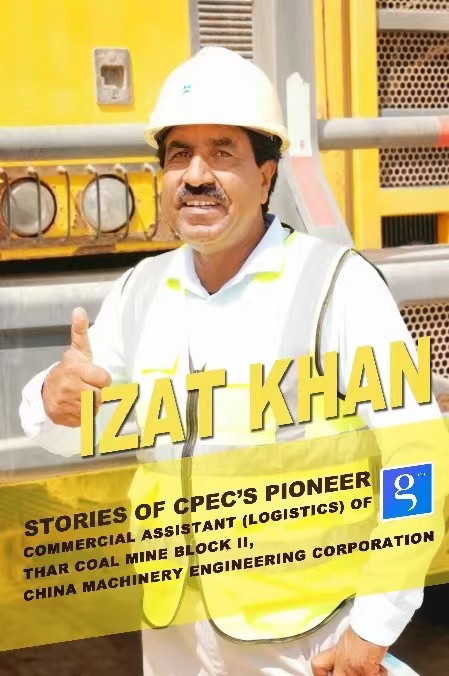 ISLAMABAD :  For a better Pakistan: a pioneer "Pakistan Li Kui, great!" Izat Khan has been striving hard for Thar Coal Mine Project,  says a report published by Gwadar Pro on Wednesday. 
Izat Khan is a Logistic Commercial Assistant in the Thar Coal Mine Block II of China National Machinery Engineering Corporation (CMEC).
Due to his burly stature and hard work, some Chinese colleagues nicknamed him "Li Kui", a heroic figure in the Chinese classic Water Margin. "I adore this name," Khan always uses the Chinese name to introduce himself to new colleagues.
In December 2015, a group from CMEC Thar Coal Mine Project Department came to the endless Thar Desert from Beijing. At that time, the construction site was full of yellow sand and there were no roads. What's worse, their first bulldozer could only be pulled by a trailer to the camp two kilometers away from the site.
However, there was no suitable equipment to unload the bulldozer. Luckily, a local man provided prompt help, "I heard that Chinese people came to help Pakistan build a coal mine." He found a forklift and then helped solve the storage battery problem of the bulldozer.
Afterwards, he asked if he could join CMEC team. His diligence left a very deep impression on everyone. In this way, Izat Khan successfully joined CMEC in January 2016.
"Now, I'm in charge of assisting the on-site commercial manager to regulate all aspects of our supply chain, including goods dispatch, material loading and unloading, and equipment inventory management," Izat Khan noted in an exclusive interview with Gwadar Pro, "In addition, I am also responsible for coordinating equipment such as dump trucks, excavators, generators, wheel bulldozers and hoisting machinery.
Sometimes I need to communicate with project owners and subcontractors to help them solve difficulties."
In the eyes of leaders and colleagues, Izat Khan always faces the difficulties without batting an eye, setting a silent example to others. According to Liu Zhe, an on-site commercial manager of CMEC, the first batch of six containers of materials sent from China needed to be delivered to the project site, but the trailer suddenly got stuck in the sandy road.
At that time, Izat Khan knelt on the ground to scoop up the sand and drag the wire rope to pull the trailer out of the bunker. With the joint efforts of Chinese and Pakistani employees, all six trailers were finally "out of danger".
"It was in May and the temperature in the Thar Desert was approaching 50°C. Izat Khan's clothes were completely soaked, and his dark face was full of sweat," Liu recalled.
In Khan's opinion, all his hard work has paid off. "Our project has been very helpful for me and my family in regards of financial condition. After joining Thar Coal Mine Project, I have built a new house for my family in my hometown.
CMEC has provided me with generous salary and benefits, so my family also live in abundance. I have been honored as Outstanding Employee 2021 for China Pakistan Economic Corridor (CPEC) Projects, which was the biggest reward for me.
When I was informed by the Chinese Embassy, it was one of the meaningful moments in my life. My family and friends were also very excited. All of them congratulated me on such a huge reward and recognition."

In 2017, Izat Khan's eldest son also came to work for the Thar Coal Mine Project. "Izat Khan enthusiastically showed many photos, telling us that his house had been renovated, the dishes on the dinner table had become more and more abundant, and all his family members had bought new clothes. We were also happy for him," Liu said.
As the flagship project of the Belt and Road Initiative and CPEC, the Thar Coal Mine Project has created more than 3,000 local jobs during the construction period and provided about 2,000 employment and professional skills training opportunities every year.
Since its official operation on July 9, 2019, the accumulated safe power generation has reached 9.29 billion kWh, ensuring the electricity demand of 2.2 million Pakistani households, and at the same time promoting Pakistan's balance of international payments and alleviating the contradiction between electricity supply and demand.
Today, the rapid development of Thar Coal Mine has brought great changes to the whole of Pakistan. Izat Khan also has expressed his profound experience, "My hometown is in District Swat, Khyber Pakhtunkhwa Province.
Since Pakistan has been suffering from power shortage for a long time, our project can give us a better future, not only for my hometown, but also for my country. For a better Pakistan, I will never regret being a part of the Thar Coal Mine Project and CPEC."