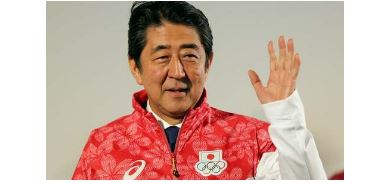 TOKYO: Japan's former prime minister Shinzo Abe, the country's longest-serving leader, was pronounced dead on Friday afternoon, the hospital treating him confirmed, after he was shot at a campaign event.
"Shinzo Abe was transported to (the hospital) at 12:20pm. He was in a state of cardiac arrest upon arrival. Resuscitation was administered. However, unfortunately he died at 5:03pm," said Hidetada Fukushima, professor of emergency medicine at Nara Medical University hospital.
Abe, 67, was delivering a stump speech with security present, but spectators were able to approach him fairly easily.
The suspect opened fire on Abe from behind with an apparently homemade gun as he spoke at a drab traffic island in the western city of Nara, Japanese media showed earlier. Abe standing on a stage when a loud blast was heard with smoke visible in the air.
Security officials were then seen tackling a man in a grey T-shirt and beige trousers.
It was the first assassination of a sitting or former Japanese premier since the days of prewar militarism in the 1930s.
Nara emergency services said he had been wounded on the right side of his neck and left clavicle.
His brother, Defence Minister Nobuo Kishi, had said earlier that Abe was getting blood transfusions.
Speaking before Abe's death was announced, incumbent Prime Minister Fumio Kishida condemned the shooting in the "strongest terms" while Japanese people and world leaders expressed shock at the violence in a country in which political violence is rare and guns are tightly controlled.
"Former prime minister Shinzo Abe was shot in Nara and I have been informed he is in a very grave condition," PM Kishida had told reporters after arriving in Tokyo by helicopter from the campaign trail.
"It is a barbaric act during election campaigning, which is the foundation of democracy, and it is absolutely unforgivable. I condemn this act in the strongest terms."
The attack had taken place shortly before noon in the country's western region of Nara, and "one man, believed to be the shooter, has been taken into custody", government spokesman Hirokazu Matsuno earlier told reporters.
Several media outlets described 41-year-old Yamagami as a former member of the Maritime Self-Defence Force, the country's navy.
Meanwhile, Prime Minister Shehbaz Sharif extended his condolences over Abe's death.
"He made invaluable contributions to the Pakistan-Japan relationship. Our prayers are with [the] bereaved family. At this difficult time, we stand in solidarity with the people of Japan," he said.
'A large bang'
Witnesses at the scene described shock as the political event turned into chaos.
"He was giving a speech and a man came from behind," a young woman at the scene told.
"The first shot sounded like a toy bazooka. He didn't fall and there was a large bang. The second shot was more visible, you could see the spark and smoke," she added.
"After the second shot, people surrounded him and gave him cardiac massage."
Abe was bleeding from the neck, witnesses said and photographs showed. He was reportedly initially conscious but subsequently lost consciousness. Officials from the local chapter of Abe's Liberal Democratic Party said there had been no threats before the incident and that his speech had been announced publicly.