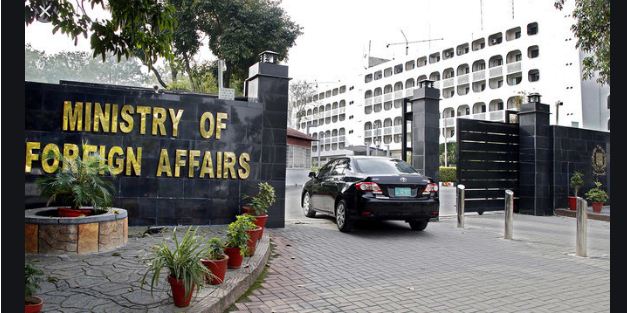 The Ministry of Foreign Affairs was supposed to communicate with the Diplomatic Corps and brief it about updates, if any, however Foreign Office's silence has further added to the woes of the diplomatic corps
Ansar Mahmood Bhatti
ISLAMABAD: As COVID 19 pandemic continues to take a heavy toll on all and sundry, the diplomatic community especially is worried about its well-being. It is still not clear to the community as to when it will get vaccination.
The Ministry of Foreign Affairs was supposed to communicate with the Diplomatic Corps and brief it about updates, if any, however, Foreign Office's silence has further added to the woes of the diplomatic corps.
Even on Thursday, the Foreign Office spokesperson Zahid Hafeez did not make any mention as to when the Ministry of Foreign Affairs shall update the missions about administration of vaccine.
A few weeks ago, when Foreign Minister Shah Mahmood Qureshi interacted with the ambassadors and high commissioners of various countries to brief them about the Kashmir issue, some ambassadors raised this issue with the Foreign Minister nevertheless Minister Qureshi, as reports suggest, did not pay any heed to the question.
A few foreign missions including the Embassy of United Arab Emirates have administered vaccination to their staff on their own. The UAE Embassy arranged vaccine doses through its own Ministry of Foreign Affairs.
Likewise, reports suggest Embassies of the United States of America and United Kingdom have also vaccinated their staff members, while a few other missions are in the process of getting vaccines through their own sources.
The lack of interest on the part of the Ministry of Foreign Affairs of Pakistan has literally left the diplomats in the lurch. In such a situation the Dean of the Diplomatic Corps should have taken the lead by raising the issue with the Ministry of Foreign Affairs but unfortunately the Dean of Diplomatic Corps is yet to act on this particular issue.
The primary responsibility nevertheless rests with the Pakistan government and Ministry of Foreign Affairs to address this issue as soon as possible because it involves the reputation and image of the country.
It may be mentioned here that Pakistani missions abroad have been facilitated by the respective governments in provision and administration of vaccines. Diplomats based in Pakistan expect similar arrangements here as well.