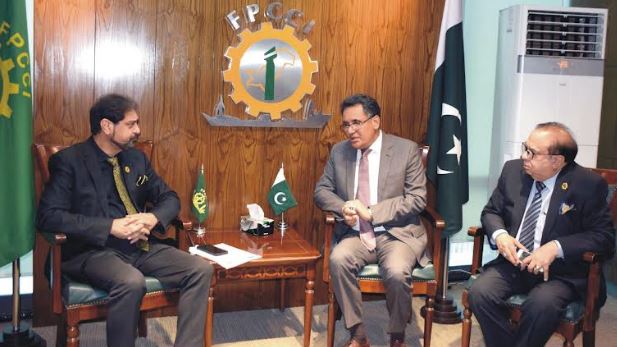 Islamabad, JUL 26 /DNA/ – Bangladesh High Commissioner to Pakistan Ruhul Alam Siddique called on Mr. Irfan Iqbal Sheikh President of Federation of Pakistan Chambers of Commerce and Industry (FPCCI), &, Mirza Abdul Rehman, Chairman Coordination Capital office in FPCCI capital office, Islamabad. Ruhul  Alam Siddique said that Bangladesh has great importance to its relationship with Pakistan and there are deep historic bond between the two countries. The high commissioner said that trade opportunities between two contries can be explored in the construction material, light engineering, surgical goods, sports goods, food processing, denim cotton, yarn, tourism, and pharmaceutical sectors. He said that this is his first visit to any chamber in Pakistan. He said the current bilateral trade volume has been increased upto $900 million and hope that it will continues to rise at a faster pace. he said, hoping that the rising trend continues in the days to come, which would be very encouraging for the business communities of both countries.
High Commissioner mentioned that the Bangladesh wishes to cooperate with Pakistan in the fields of food processing, dairy, and textile, citing that He said that Pakistan is very important to Bangladesh in terms of trade and investment and both the countries must facilitate each other, instead of becoming competitors. There is enormous trade potential between the two countries and we must exchange our skills and capabilities for the benefit of each other.
Irfan Iqbal Sheikh, President of FPCCI appreciated the efforts of Bangladesh's government for improving trade and investment with Pakistan. He suggested some other measures to facilitate the rapid promotion of bilateral trade between Pakistan and Bangladesh. These include formulation and effective implementation of a joint trade promotion strategy for the rapid increase in bilateral trade for more joint ventures in textile production and services.
President, FPCCI further said that both countries should make it easier to boost export trade. This will enhance the trade of jute, tea and tobacco in Bangladesh, Pakistan will also increase the export of yarn, sugar, etc to Bangladesh. However it will make the current trade balance more favourable for Bangladesh, policy support from Pakistan is required. He further said that the Pakistan wants to move forward by developing trade relations with Bangladesh. There is vast opportunity available to enhance the trade and economic relations between the two countries.Mirza Abdul Rehman Chairman Coordination FPCCI said that investment cooperation is another area in which both countries should collaborate for mutual benefits. Information technology, pharmaceutical, telecommunication, construction, automobile parts, food processing, fisheries, agriculture, hotel industry, and real estate offering tremendous opportunities and potential for cooperation. He said that organizing joint cultural shows and frequent exchange of business delegations can bring people of both countries closer to each other that would eventually enhance the mutual cooperation between Pakistan and Bangladesh.