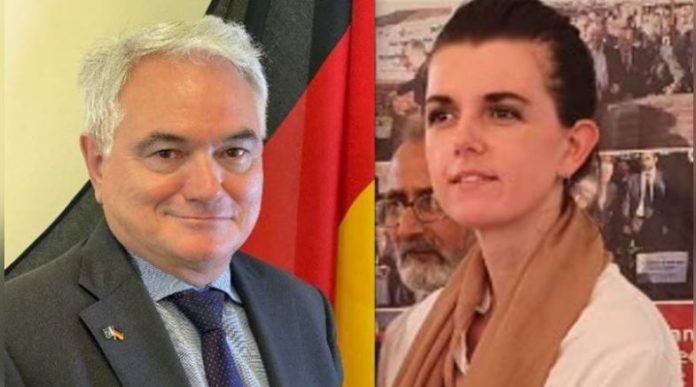 LAHORE, SEP 23 (DNA) — German Ambassador Alfred Grannas and First Secretary Dorota Magdalena Berezicki visited the Walled City of Lahore and tasted delicious "Qimay Alla Naan".
According to reports, German Ambassador Grannas and First Secretary Dorota visited Delhi Gate and the historic Wazir Khan Mosque. German Ambassador and First Secretary are on a special visit to Lahore city and staying here to observe the rich culture and historical places of livelihood city of Lahore.
During their visit to Delhi Gate, they enjoyed the taste of a special oily bread roasted with small pieces of beef. They visited historical buildings and walked into the old streets of the walled city. They appreciated Lahoris by seeing various traditional handmade items here.
On this occasion, the Ambassador of Germany said that Lahoris are hospitable as well as generous. He also advised the foreigners to come to Lahore and enjoy the cultural colours of the city. Deputy Director Culture Aisha Khan, and Director Conservation Najam Saqib briefed the German Ambassador and Frist Secretary about the history of Lahore. =DNA