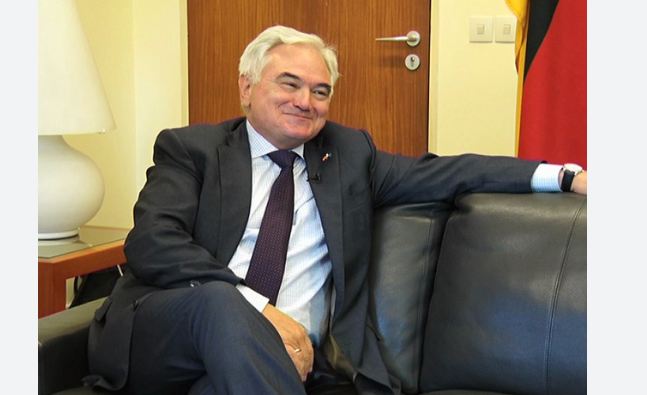 DNA
KARACHI, German Ambassador to Pakistan Alfred Grannas and his Embassy team including Deputy Council Karachi, Andrass Wegner and Secretory Julia Klein visited the Sindh Rural Support Organization (SRSO), Mirpurkhas, said a press release issued here on Tuesday.
According to SRSO Spokesperson, Jamil Ahmed, the aim of his visit was to learn about the organization and its poverty reduction initiatives supported by the Government of Sindh.
The Chief Executive Officer (CEO), Muhammad Dital Kalhoro shared his organization approach and highlighted interventions made at the community level for financial, social, and economic empowerment of rural communities through small entrepreneurship with a women-led household-based approach.
Talked about, the Union Council-Based Poverty Reduction Program (UCBPRP) of the Government of Sindh, Mr Kalhoro told that UCBPRP was a symbol in terms of service delivery to the poorest rural population through social mobilization to empower the local communities by socially and economically enabling them to improve their livelihood and increase their earnings through Income Generating Grants (IGG) and Community Fund as was given as an interest-free loan under this program.
He said that the programme was not only focused on social sector improvement by directly addressing the indicators of health, poverty, environment, social security, shelter, employment and basic livelihood but also helped in achieving the objective and targets of universally accepted Sustainable Development Goals(SDP) of which Pakistan was a signatory.
The delegation also met with rural community representatives and beneficiaries of SRSO's programs, including Malteser International Cash Grants. He further said that it achieved great success in the targeted districts of Sindh.
It is pertinent to mention here that the SRSO is also involved in disaster response and recovery efforts in partnership with Malteser International and ADH.
The German delegation appreciated SRSO's work aligned with the United Nations' Sustainable Development Goals.
Earlier, the delegation was decorated with German-made Ajrak by rural women.
The meeting concluded with the distribution of hygiene kits to promote good health and hygiene.