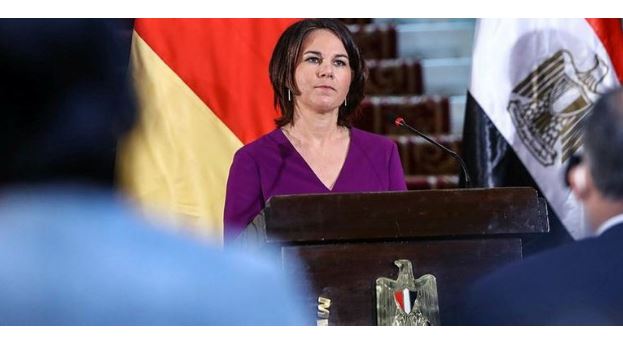 German Foreign Minister Annalena Baerbock has told Egypt that the human rights situation in the country will play a greater role in future arms deliveries.
Exceptions to a "restrictive policy" should only be made in justified individual cases and after careful examination, Baerbock said on Saturday in Cairo during a joint appearance with her Egyptian colleague Sameh Shoukri.
"And the human rights situation already plays an important role in this, but also in the future," she said.
"Of course, this will also have an impact on countries that have so far been major recipients of German arms exports."
Egypt has occupied a top position in German arms export statistics for three years. Arms deliveries to the North African country are therefore extremely controversial.
Critics see a disastrous human rights situation there. Under the leadership of President Abdel Fattah al-Sissi, the government is cracking down on critics and opponents. Tens of thousands of people are in prison because of this.
In addition to Shoukri, Baerbock also met al-Sissi in Cairo.
She explained that she had spoken openly and honestly with her counterparts about the human rights situation. Security and stability can only exist in the long term "where all people have perspectives and the chance to participate peacefully in politics and society."
"Egypt has emphasized that it does not base its relations [with others] on the basis of conditionality, but on the basis of mutual respect, joint interests and respect for non-interference in internal affairs in line with the UN charter rules and international norms," Shoukri said.
"When Egypt turned to Germany to meet its armament needs, it was to protect its national security and borders.
"What Egypt has provided in terms of security and stability in this region has generated a direct impact on security in Europe," Shoukri continued.
Cairo is the last stop on Baerbock's Middle East tour. She had previously visited Israel and Jordan in the past two days.