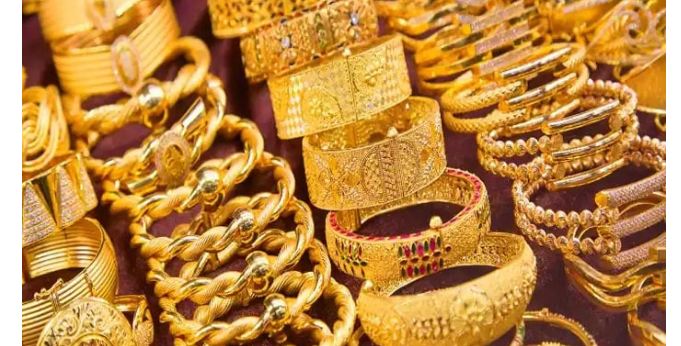 Gold prices fell on Friday as the rupee ticked higher, while traders continued to position themselves for further rate hikes from the State Bank of Pakistan (SBP) — as the precious commodity is highly sensitive to rising interest rates. 
Data released by the All-Pakistan Sarafa Gems and Jewellers Association (APSGJA) showed that the price of gold (24 carats) declined by Rs1,000 per tola and Rs857 per 10 grams to settle at Rs195,100 and Rs167,267, respectively.
Investors expect the State Bank of Pakistan (SBP) to raise interest rates as early as this week in an off-cycle review as the South Asian nation faces pressure to mend its finances amid a $1 billion loan tranche it is seeking from the International Monetary Fund (IMF).
While gold is considered an inflation hedge but is highly sensitive to rising interest rates, which increase the opportunity cost of holding the non-yielding bullion.
Moreover, the local currency extended its winning streak for the third day as it gained 0.36% against the US dollar to close below the psychological level of 260 after a hiatus of 20 days in the interbank market — which faded the appeal for the precious commodity.
Meanwhile, silver prices in the domestic market fell by Rs20 per tola and Rs17.14 per 10 grams to settle at Rs2,100 and Rs1,800.41, respectively.
In the international market, gold prices headed for another weekly fall on Friday, holding near last session's two-month lows as prospects of more interest rate hikes by the US Federal Reserve dimmed bullion's appeal amid a slew of strong economic data.
The price registered a meagre decline of $8 per ounce to settle at $1,818.
Bullion has lost about 7% since the beginning of February, having posted significant declines in the previous two out of three weeks and is down about 1% this week.
Gold is trying to find support around the $1,820 level, but prices could drift still lower towards $1,776 on strong personal consumption expenditure data, said Ole Hansen, head of the commodity strategy at Saxo Bank.
"The market is looking to stabilise after the long overdue correction, which has now been unfolding for the past three weeks."