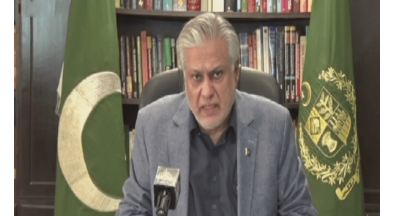 ISLAMABAD, APR 30: Finance Minister Ishaq Dar on Sunday announced that the price of petrol would remain unchanged at Rs282 per litre for the next fortnight while the price of high-speed diesel was reduced by Rs5 per litre to Rs288.
In a video address today, the finance minister announced that the prices of light-diesel oil and kerosene were being reduced by Rs10 to Rs164.68 and 176.07 per litre, respectively.
Dar said the finance ministry had tried its utmost to settle the matter of price changes in the nation's favour after the recommendation from the Oil and Gas Regulatory Authority. He said the final price changes were settled after "many rounds" of discussion.
On April 15, Dar had announced an increase of Rs10 per litre in the price of petrol. The prices of diesel and light diesel oil had remained unchanged at Rs293 and Rs174.68 but the price of kerosene was increased by Rs5.78 to Rs186.07.
From April 1-15, the daily consumption of petrol in the country was around 20,000 tonnes and that of high-speed diesel was 15,500 tonnes.
It is estimated that around Rs8,000 to 10,000 tonnes of high-speed diesel was being smuggled into Pakistan daily, while the demand for Iranian petrol was less due to its slightly lower quality and the overall reduction in petrol demand.