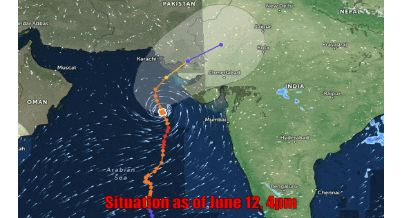 ISLAMABAD, JUN 12: The Sindh government on Monday announced evacuations across the province as the Pakistan Meteorological Department (PMD) said Bipar­joy, now classified as an "extr­emely severe cyclonic storm", was making its way across the Arabian Sea towards the coastlines of Pakistan and India.
Sindh Chief Minister Murad Ali Shah said an emergency had been declared and the army drafted in to help relocate "more than 80,000 people" at risk.
Key developments
PMD says heavy rain, thunderstorm and squally winds likely in Thatta, Sujawal, Badin, Tharparker and Umerkot districts from June 13-17
Sindh CM conducts aerial inspection of coastline, says cloudburst expected in Karachi and preparations for evacuations from areas at risk under way
Police official says 15 checkpoints have been established at Seaview
Hyderabad commissioner says sea level will rise by four to five metres when storm hits
"We will not request people but demand them to evacuate," he told reporters, adding that the order was being issued through social media, mosques and radio stations.
Separately, a spokesman for the chief minister said that around 2,000 people had already been evacuated to "safe places" from the area of Shah Bandar, a fishing town nestled among mangrove deltas 45km (28 miles) west of India's Gujarat state.
The evacuations came as the PMD issued a fresh advisory which said the cyclone had "moved further northward during the last 12 hours" and lay at a distance of about 600km south of Karachi, 580km south of Thatta and 710km southeast of Ormara.
The Met department said the system was "most likely to track further northward until June 14 morning".
It added that the cyclone would then recurve northeastward and cross between Keti Bandar (southeast Sindh) and the Indian Gujrat coast on June 15 as a "very severe cyclonic storm".
The PMD said the cyclone's maximum sustained surface winds were 160-180km per hour while gusts as high as 200km/h were around the system centre. Sea conditions were "phenomenal around the system centre with maximum wave height 35-40 feet", it added.
"The favourable environmental conditions … are supporting the system to maintain its intensity," the PMD said. The department added that its cyclone warning centre in Karachi was continuously monitoring the system and would issue updates accordingly.
In its alert, the PMD cited the system's approach towards the southeast Sindh coast and warned citizens that "widespread wind-dust/thunderstorm rain with some very heavy/extremely heavy falls accompanied with squally winds of 80-100km/hour" were likely in Thatta, Sujawal, Badin, Tharparker and Umerkot districts from June 13-17.
It further said that "dust/thunderstorm-rain with few heavy falls and accompanied with squally winds of 60-80km/h" were likely in Karachi, Hyderabad, Tando Muhammad Khan, Tando Allayar, Shaheed Benazirabad and Sanghar districts from June 14 to 16.
"Squally (high-intensity) winds may cause damage to loose & vulnerable structures (kutcha houses), including solar panels, etc," the department said.
A storm surge of 3-3.5 metres was expected when the cyclone made landfall which could inundate low-lying settlements, it highlighted.
The PMD advised fishermen to not venture out into the open sea "till the system is over by June 17 as the Arabian Sea conditions may get very rough/high accompanied with high tides along the coast".
Talking to Dawn.com, Met Office spokesperson Sardar Sarfaraz said the maximum wave height could go up to 12ft when the cyclone hit Pakistan's coastline.
Met Office spokesperson Sardar Sarfaraz talks to Dawn.com on Monday ahead of Cyclone Biparjoy approaching Sindh. — Screengrab from video by Asim Khan
He said that the weather in Karachi was warm right now due to which the sea breeze "has been kind of trapped". He said that winds would blow from the south or southeast in the next two days which could cause temperatures to rise to 40 degrees Celsius or above.
"There is also the possibility that from June 14-16, a windstorm blows here as well (in Karachi) and there is rainfall — medium showers at times and heavy at some," he said.
He added that heavy rainfall was also expected in other districts in Sindh in the coming days, including Hyderabad, Nawabshah and Sanghar.
"It seems that as soon as it (the system) will exit Sindh, a spell of rain will begin in Punjab," he noted.
Murad says cloudburst expected in Karachi
Addressing a press conference in Karachi later this afternoon, CM Shah stressed the need to prepare for dealing with the cyclone.
"The direction of the cyclone is changing and while it is not directed towards Karachi, there will be strong winds and rainfall. The prediction is that there will be 60mm of rain in the span of half an hour… It will be a cloudburst of the same intensity that we faced in 2020 and 2022," he said.
He added winds were expected to blow at 70 kilometres per hour.
CM Shah did not specify the date on which cloudburst was expected in Karachi.
As contingency measures, billboards were being removed and instructions had been issued to stop construction work, especially after June 14 since "June 14 and 15 will be severe" in terms of the effects of the cyclone, the CM added.
He said that around 70 buildings in Karachi had been declared "most dangerous" and a plan was being devised to evacuate people from there as well.
Shah said he had constituted "combined teams" to evacuate the people from areas at risk of getting affected by the cyclone in Sindh.
He further said he had directed the Karachi Metropolitan Corporation, Karachi Water and Sewerage Board and all district municipal corporations to have "all equipment", including water-pumping machines, stationed at various locations across the city with sufficient diesel before the expected rainfall under the impact of the cyclone weather system.
"All will be on emergency duty till the risk of the cyclone persists," he said.
Touching upon the issue of various roads being dug up across Karachi, Shah said the residents of those areas should not leave their homes unnecessarily as "when there will be one-to-two-foot-high water on the roads, you would not know where the road is and where the ditch is".
He said he had asked the MPAs of Thatta, Badin and Sujawal not to attend the budget sessions for the next two days and ordered them to stay in their respective districts to assist with evacuation and monitor the situation.
"Because when the cyclone makes landfall after June 14, it will be the cyclone doing its work, we would not [be able] to do anything. We have to prepare before that," he said.
The CM said Rescue 1122 personnel were being deployed to assist in case of emergencies.
Earlier, Shah conducted an aerial inspection of the coastline along Sujawal, Badin and Thatta. Sindh Local Government Minister Nasir Shah, chief secretary Sohail Rajput and PDMA Director General Salman Shah also accompanied the chief minister.
He also presided over a meeting in Sujawal, where he reviewed arrangements being made to mitigate the impact of the cyclone on the coastal belt.
The Hyderabad commissioner, during a briefing, informed Shah that the cyclone is expected to hit the Sindh coast on June 15 and its impact will reduce till June 17-18.
He was further told that when the storm will hit the coast, the sea level will rise by four to five metres.
The minister was also informed that 50,000 people from the villages nearby Shah Bunder, Jati and Keti Bunder will need to be evacuated ahead of the cyclone.
People from the village of Bhagra Memon near Badin's Zero Point had been evacuated while 2,000 people from the islands of Shah Bunder had been moved last night to a safe place, Shah was told.
He was also given a briefing in Thatta by Maritime Security Commander Jawwad Haider, who highlighted that there were two challenges — high tides and speedy winds.
The official further said that people residing in the areas of Khaar Kuchhan and Keti Bandar will have to be evacuated.
Subsequently, Shah directed the district administration, the Navy and Maritime Security to help the residents.
PPP's Murtaza Wahab said the Sindh CM was visiting the coastal areas of Sindh to oversee preparations made to deal with the cyclone.
"The health department, the provincial disaster management authority and the administration have been directed to ensure that all facilities are available in case of any emergency," he said on Twitter.
Seaview cordoned off
Meanwhile, Karachi South Senior Superintendent of Police (SSP) Syed Asad Raza told Dawn.com, that Seaview had been blocked for traffic.
Karachi's Seaview Road was blocked for traffic on Monday. — Screengrab from video provided by Asim Khan
"Abdul Sattar Edhi Avenue has been closed at Sehr junction while traffic from Dolmen Mall, Clifton is being diverted to Khayaban-i-Ittehad via Saba Avenue," he said.
"However, traffic from Clock Tower towards Dolmen Mall has been allowed," the official added.
SSP Raza said that there was "no ban on going to Seaview" but restrictions were in place on venturing out into the open sea for swimming, fishing, etc.
"In view of the upcoming cyclone, District South police have issued an elaborate security plan to prevent foolhardy visitors from venturing out into the open sea despite a clear ban by the Sindh government.
"We have set up over 15 checkpoints at Seaview and other roads leading to the beach for public safety," the SSP highlighted.
SSP Raza added that emergency control rooms had been set up at Seaview to "help visitors in distress".
Separately, the spokesperson for Defence Housing Authority (DHA) in Karachi Farrukh Rizvi told Dawn.com that a decision on evacuations from the DHA locality was pending "considering the worst case scenario".
He said they were working on identifying hotspots in the locality that is situated near Karachi's coast.
Instructions for declaring emergency in KMC departments
Earlier, Sindh Governor Kamran Tessori directed that steps on an emergency basis be taken to cope with any possible untoward situation due to the cyclone, state-run Radio Pakistan reported.
It said the governor directed for an emergency to be declared in all organisations working under the Karachi Metropolitan Corporation and for rain emergency centres to be made active in the entire city.
He also directed that steps in advance be taken to evacuate people along the coastal side and that rescue teams be kept ready.
Section 144 imposed in Balochistan's coastal areas
According to state media PTV News, Balochistan CM Abdul Qudoos Bizenjo has issued instructions for the imposition of Section 144 in the province's coastal belt.
"Leaves of the employees of all relevant departments have been cancelled, hospitals have been put on high alert," the state broadcaster said in a tweet, adding that Makran and Kalat commissioners had been directed to monitor the measures taken for dealing with the cyclone.
Moreover, the broadcaster quoted CM Bizenjo as saying that relevant departments should remain in touch with and consult fishermen 24 hours.
Contingency measures in India's Gujarat
Meanwhile, fishermen in India's Gujarat — which too is expected to hit by Cyclone Biparjoy — have been advised against going to sea and those at sea have been called back, with 21,000 boats parked so far, the government said on Monday.
Offshore oil installations have also been asked to ensure the immediate return of all manpower, and two of India's largest ports — Kandla and Mundra — located in Gujarat have been alerted while other ports have been advised for preventive action.
Gujarat Pipavav Port Limited, in a stock exchange filing on Monday, said operations at its Pipavav Port had been suspended since late Saturday evening due to "prevailing severe weather conditions".
Ten teams of the State Disaster Response Force (SDRF) and 12 of the National Disaster Response Force (NDRF) have been deployed in Gujarat, the government said, with three more NDRF teams on standby and another 15 ready to be airlifted from other states on short notice.
"Rescue and relief teams of the Coast Guard, Army and Navy along with ships and aircrafts have been kept ready on standby," it said.