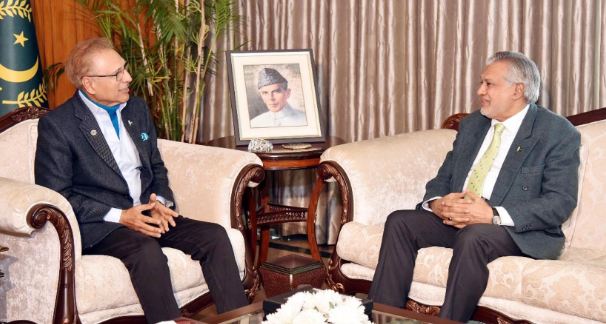 Rs 170 billion new taxes proposed; austerity drive being launched
Ansar M Bhatti
ISLAMABAD: After President Dr Arif Alvi's refusal to issue an Ordinance regarding the mini-budget, the government has decided to get it approved from the Parliament, for which the special session of the National Assembly is being held today.
The decision was made during the cabinet meeting which ended late night. The Finance Minister Ishaq Dar shall lay the bill before the House for approval and the government intends to get it approved the same day i.e. today.
It may be mentioned here that the mini-budget is being introduced as per the directions of the International Monetary Fund (IMF) that wants Pakistan to increase its revenue and broaden the tax net.
To meet yet another demand of the IMF , the government on February 13 had already increased prices of gas and electricity thus putting extra burden on ordinary people.
Pakistan and the IMF will resume talks virtually after 10 days of face-to-face discussions in Islamabad on how to keep the country afloat ended without a deal.
President Dr Arif Alvi has raised objections on the government's bid to impose the 'mini-budget' recommendations through an ordinance, citing sources, media reported on Tuesday.
Sources said that the federal government decided to impose an ordinance for implementing the budgetary recommendations.
The federal government is seeking approval from the president to sign an ordinance for the imposition of a mini-budget ordinance.
Following President Dr Arif Alvi's objections, the government team mulled over the next strategy. Sources said that the president wants to approve the mini-budget-related legislation via a bill which should be presented before the parliament.
On the other hand, the federal government wants to immediately impose the legislation via an ordinance instead of passing a bill from the parliament to avoid spending more time.
Sources added that the government would contact President Alvi again to request him to immediately promulgate the ordinance after its approval from the federal cabinet. It was learnt that the budget-related ordinance cannot be tabled in the joint sitting of the parliament.
The federal government would be bound to seek the president's order again for summoning another joint sitting with new agenda items after concluding the ongoing session. The federal government thinks the president would not summon the parliament's joint session again if the ongoing sitting is concluded.
Federal Minister for Finance and Revenue Senator Ishaq Dar called on President Dr Arif Alvi at Aiwan-e-Sadr.
During the meeting, the finance minister briefed the president on the overall economic and financial outlook of the country. The finance czar also briefed the president on International Monetary Fund (IMF) bailout conditions.
The meeting also discussed the imposition of Rs170 billion in additional taxes through a mini-budget.
The president asked the finance czar to take the parliament in confidence regarding the budgetary recommendations. He asked Dar to immediately summon a parliament session to pass a bill at the earliest.