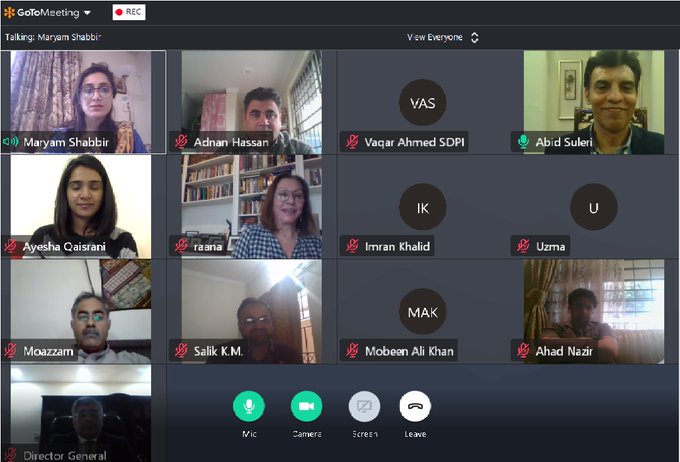 ISLAMABAD, MAR 31 (DNA) – Policy experts at an online Consultation called upon the government to facilitate thousands of overseas workers stranded in Pakistan due to COVID-19 pandemic across the world.
The online consultation titled: 'Migration/Border Management during COVID-19, was organized by Sustainable Development Policy Institute here on Tuesday.
Speaking on the occasion, Kashif Ahmed Noor, Director-General, Bureau of Emigration and Overseas Pakistanis, said the foreign remittances have already halved in these two months and are expected to decrease by $1 billion to 1.5 billion per year if the situation persists any longer. He said currently 10,000 to 11,000 households are estimated to be directly impacted.
He said: "there are around 60,000 people who were in the process of going abroad for their jobs. We are trying to negotiate with UAE and other countries to sustain them in these testing times."
He said the bureau will share its 3-month database with Overseas Pakistani Foundation and Benazir Income Support Programme to facilitate blue color workers. "We cannot leave them helpless," he added.
Dr Abid Qaiyum Suleri, SDPI Executive Director, said it's time to pay back to the migrant workers who would send millions of dollar remittances to Pakistan.
Stressing the need to devise a migrants' protection policy, he said comprehensive measures need to be taken for Overseas workers in terms of their overall health when they would return to their homeland after finishing their jobs in post-COVID-19 era.
He further said insurance policies should be strengthened and the policies currently in place especially regarding overseas Pakistanis should be broadened.
Ms Raana Rahim, Country Director, International Centre on Migration Policy Development (ICMPD), offered her support to labour market research cell, saying that the cell is meant to be institutionalized and should be an integral part of the Ministry of Overseas Pakistanis.
She further said ICMPD is trying to train officials on the lines of e-learning, health migration and border management. "ICMPD realizes that these measures entail providing equipment as FIA does not have the resources to benefit, so we're trying to find a less costly solution. "We need to provide PPEs to those who are at the frontline of the border," she said, adding that border management and security department has a lot of capacity at ICMPD to provide policy support.
Mr Waqar Sherazi, Social Protection Specialist, said that the socio-economic registries in Pakistan have the database where the data can be filtered for overseas Pakistani labourers. "These simulations can be run and a valuable dataset/ information may be provided to the ministries concerned for their consumption and consequent support to blue-collared overseas who lost their jobs due to the pandemic.
The relief provided in this regard (to their families back at home) may help them survive the economic shock due to their job losses.
He added that the upcoming worldwide recession due to Coronavirus outbreak would ultimately translate into potential Job loss of Pakistanis working overseas which will further result in drastic reduction in remittances.
This will affect the induction of cash to the local economy and consequently the local job market will also be affected. To avoid this situation, he said, the ministries concerned need to ensure minimum job loss to overseas Pakistanis by engaging the foreign governments.
SDPI Joint Executive Director Dr Vaqar Ahmed said we do understand that Pakistani workers may have to come back soon as global economies slow down and GCC countries continue to suffer from abnormally low oil prices.
"Therefore, Prime Minister's economic package needs to expand its scope and include assistance for the returning workers." He suggested that both the Ministry of Finance and Ministry of Overseas Pakistanis need to coordinate in the coming days as assistance from IMF's Rapid Finance Instrument becomes available. Some allocation may be allocated for the safeguard of Overseas Pakistanis.=DNA
========