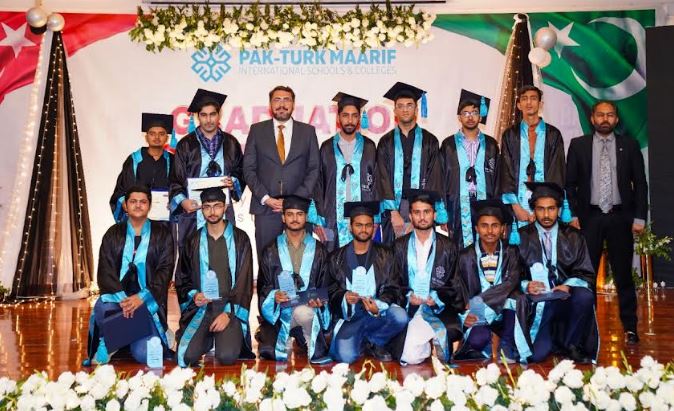 ISLAMABAD, AUG 21 /DNA/ – Pak-Turk Maarif International Schools and Colleges, Chak Shahzad Boys Campus Islamabad has organized an incredible event of "Graduation Ceremony" of its student who has successfully completed the academic career till intermediate (HSSC& A-Levels).The event has been hosted by the Campus Director Mr. Fazlı Püskül and the Principal of Chak Shahzad Campus Mr. Jawad Hasan.
The Graduation Ceremony has begun with the recitation of Holy Quran and the welcome speech by the Turkish Maarif Foundation, Country Representative Mr. Harun Kucukaladagli, by thanking the honourable guests from Türkiye and Pakistan for joining in this historic event. The event has been delighted with the presence of Prof. Dr. Mehmet Paçacı as Türkiye's New Ambassador to Pakistan, TMF Member Board of Trustees-Ms. TuğbaIşıkErcan, Mr. Prof. Dr.Shamsul Qamar Incharge AcademicsCOMSAT University, and Mr. Muhammad Rafique Tahir (Senior Advisor- SSP) Allama Iqbal Open University Islamabad.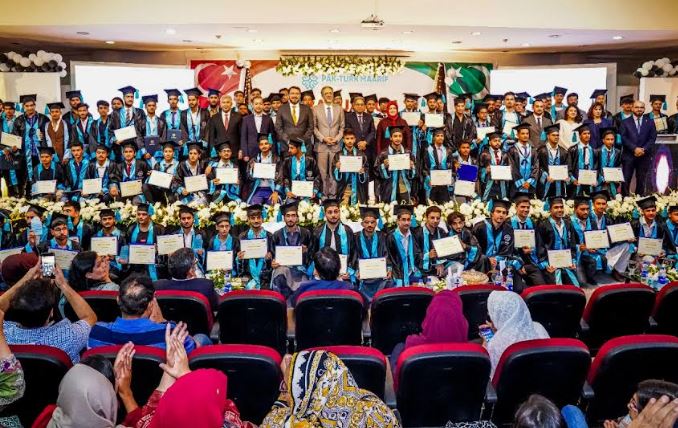 Mr. Harun Kucukaladagli has praised wishes to the graduating student for their success in intermediate exam and for their future endeavors. He has alsohighlighted the importance of education for both nations and the great contribution of Pak-Turk Maarif International Schools & Colleges in the field of education and literacy development.
He also elaborates that Pak-Turk Maarif International Schools and Colleges is operating under the umbrella of the Turkish Maarif Foundation, which is a Turkish State-Owned, Non-Profit Educational Entity, recently confirmed its legal status in Pakistan as Turkish State Organization, through an intergovernmental agreement signed between both governments on January 13, 2021.
He also conveyed to audience that TMF is facilitating to more than 50,000 students enrolled in 429 schoolslocated in 49 countries worldwide. In Pakistan as Pak-Turk Maarif International Schools and Colleges, TMF is providing state-of-the-art educational facilities to more than 13000 students in 27 campuses situated in 10 different cities across Pakistan.
Mr. Harun has provided a brief to the event audience that this year145 number of students has been graduating successfully from this campus. This year 40 number of students has beenawarded with the scholarship and placed in the renowned international universities for their higher studies.
He has highlighted that for two brotherly countries, Türkiye and Pakistan, Education holds a critical importance not only for their future through the new generation but also for bringing them closer. Our strategy and approach in academic development, targets highest possible quality and standard in our programs. To embed the philosophy of "Two Nations, One Future", Pak-Turk Maarif International Schools and Colleges provide inspirational, value integrated and progressive learning environment to students who are also encouraged to participate in National & International Competitions and celebrate the accomplishment of the teachers for their efforts. In the last, He emphasized developing creative and critical thinking abilities among the students with the help of state-of-art technology for a brighter and better future for both nations.
Ms. TuğbaIşıkErcan has also addressed the graduation ceremony event and praised the efforts of the students, teachers and the management of TMF for organizing this mesmerizing event. She has congratulated the successful students and their parent for their achievement and also the teachers who has devoted their effort to polish the skills of student through education and personality development.She also expressed that only with the educational developmentthe future of both nations is in safe hands.