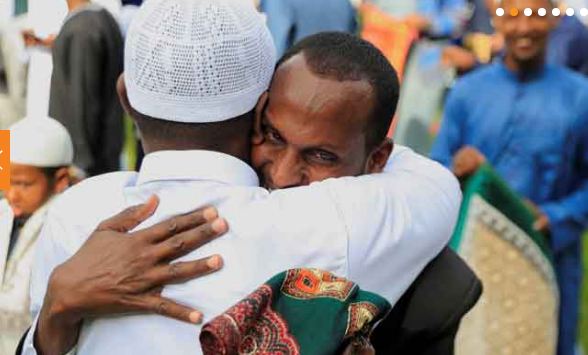 Muslims in the Gulf countries and other parts of the world are celebrating Eid ul Fitr on Friday (today) with family and friends, marking the end of the month-long fasting period of Ramadan.
The religious holiday is being celebrated in many countries including the Gulf states as Saudi Arabia announced the sighting of the Shawwal moon on April 20.
Muslims in the United States, Canada, Australia, Saudi Arabia, United Arab Emirates (UAE), Qatar, Yemen, Bahrain, Kuwait, Egypt, Palestine, Lebanon, Iraq, Turkey, Indonesia, Palestine, Turkey and Afghanistan are celebrating the religious festival with zest and zeal.
The people started their day with morning prayers and offered Eid greetings to one another.
Several leaders from around the world extended felicitations to the Muslims on this day.
Canadian Prime Minister Justin Trudeau wrote on Twitter: "Eid al-Fitr, also known as the festival of breaking the fast, marks the end of the holy month of Ramadan. To Muslims across the country and around the world who are celebrating with their family and friends: Eid Mubarak!"
United Nations Secretary-General António Guterres also wished the Muslims a very happy Eid.
"Each of us can be inspired by this celebration's spirit of solidarity, community, compassion and empathy. Eid Mubarak!" he wrote.
Prime Minister Shehbaz Sharif also extended his wishes to the Muslims on this festive occasion.
"Wishing our overseas Pakistanis and Muslim brothers and sisters around the world a very happy and blessed Eid ul Fitr. May Allah Kareem accept our worship [and] forgive our sins!" said the premier.
Eid ul Fitr is a religious festival in Islam which is celebrated by Muslims all over the world, marking the end of month-long fasting in Ramadan.
The celebrations of Eid begin with early morning prayers with Muslims, elderly and young, dressing up in traditional clothes. Families gather to share their first breakfast together after fasting for 29 or 30 days.
Loved ones meet and enjoy delicious foods together with desserts dominating the table.