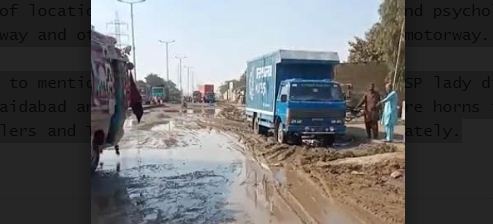 By Nazir Siyal
KARACHI: A heavy taxpayer Industrial Mehran Highway completely damaged and destroyed both sides due to road condition and incidents of loaded vehicles and blockage is routine.
Since decade, the road heavily damaged at different locations and witnessed traffic block with heavy dust smoke in air, as well incidents of ditches occupied with drainage water. The Highway was build to improve connectivity to Landhi and Korangi, Port Qasim and Bhains colony via Shahrah-e-Faisal, Model Colony, Malir, Link road to the M-9 and Thatta dual carriage.
Most tax payer industrial zone Karachi roads infrastructure completed destroyed and ugly look of both side encroachment Bhains Colony along with Bin Qasim leading to Karangi and Landhi industrial areas.
Sindh government had announced to maintain and repair few patches of the Mehran highway but since decade could not be completed since its construction.
Hundreds of loaded vehicles divert from Qaidabad, Landhi, Korangi, Malir, Bin Qasim and other connecting national highway road facing pressure, which result the incidents of human lives lost.The people of locations are suffering from physical and psychological issues due to undeveloped Mehran highway and other Link road connecting to M-9 motorway.It is vital to mention here that the traffic police SSP lady directed his staff to take action and remove at Qaidabad and Razakabad sections, the pressure horns in the heavy vehicles particularly in the Trallers and Trucks on the roads banned immediately.