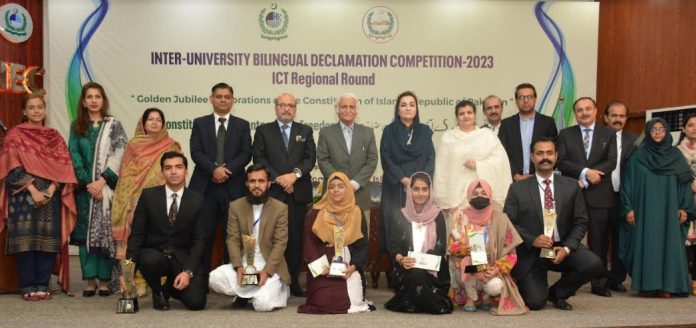 Islamabad, MAR 22 /DNA/ – Higher Education Commission (HEC) is hosting the Inter-University Bilingual Declamation Competition 2023 in commemoration of the Golden Jubilee of the Constitution of Islamic Republic of Pakistan, as advised by the honourable Speaker of the National Assembly of Pakistan, Mr. Raja Pervez Ashraf.
For ICT round, students from Islamabad, Rawalpindi, Taxila, AJK and Gilgit Baltistan participated in the competition held at HEC Secretariat Islamabad on Wednesday, while regional rounds for Balochistan, Sindh, Khyber Pakhtunkhwa and Punjab were held in the provincial capitals on Tuesday.
The aim of this competition is to encourage young people across the country to engage with the Constitution and to reflect on its importance. The final winners of this competition would be invited to make their winning speeches at the Parliamentary Convention in Islamabad, an opportunity to showcase their talent. In addition, cash prizes for the top three finalists will also be awarded by the National Assembly of Pakistan.
The theme of the Declamation Competition is "My Constitution-Guarantee of My Freedoms" in English language and "Mera Aien – Meri Azadiyon ki Zamanat" in Urdu language.
ICT regional round in Islamabad was graced by Senator Mr. Farhatullah Babar and Member National Assembly Ms. Mehnaz Akber Aziz. Adviser (Academics, Curriculum & NAHE) HEC, Engr. Muhammad Raza Chohan, Adviser (Global Engagement) HEC, Mr. Awais Ahmad and a large number of students attended the event.
The panel of judges included Dr. Muhammad Ahmad Munir from International Islamic University, Dr. Humaira Aslam from University of Peshawar, Dr. Fehmeeda Tabassum from Federal Urdu University and Mr. Muhammad Arslan from PTV World.
In his address, Senator Farhatullah Babar thanked HEC for celebrating the golden jubilee of the constitution of Pakistan and appreciated all student participants for their dedication and hard work. He said that our constitution is the foundation of our country. "The preamble reminds us that we, the people of Pakistan, are the sovereign people of this nation, and no one can breach our fundamental rights."
He also emphasised that Article 16 gives us the freedom of association, which is crucial for any democratic society. However, there are still some impediments that we need to overcome, and we must work together to ensure that all citizens are provided their due rights.
Member National Assembly Ms. Mehnaz Akber Aziz appreciated HEC for organizing this competition as an effort to promote awareness about the constitution. She hoped that this competition will inspire more young people to engage with our constitution and become active citizens in building a brighter future for Pakistan. She further added that one issue we face is the lack of institutionalization of the constitution. We need to make it easily and readily available, readable, and understandable for all citizens. This will encourage more people to engage with the constitution and understand their rights and responsibilities as citizens of Pakistan. On this occasion, she also announced the opportunity of internship for the Regional Round winners.
Engr. Muhammad Raza Chohan, in his welcoming remarks, said that our constitution is the fundamental document that gives us rules and regulations for governing our country. It is essential that we understand the constitution and its provisions, as it is the real basis of our democracy.
After a rigorous evaluation process in the ICT regional round of Inter-University Bilingual Declamation Competition 2023, Abdullah Khan, Quaid-i-Azam University Islamabad won the first position in the English contest, Uzair Javed, Mohi-ud-Din Islamic Medical College secured second position and Reemal Imtiaz, COMSATS Wah Campus won the third prize.
In Urdu Speech, Minahil Hijab, HITEC University secured the first position, Muhammad Munib Asghar, Institute of Space Technology won the second position and Gul Rukh, University of Wah won the third position. The first position holder won cash prizes of Rs. 30,000, while the second and third position holders received Rs. 20,000 and Rs. 15,000 respectively both in English and Urdu speeches.
The National and Final Round of the Competition is scheduled for 3rd May, 2023 at HEC Auditorium Islamabad, where all the winners of regional rounds will compete to be declared as national winners of this event.