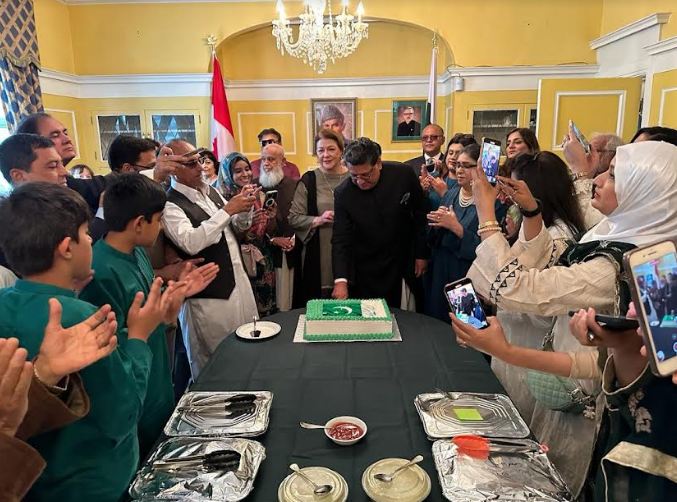 Ottawa, AUG 14 /DNA/ – The 76th Independence Day of Pakistan was marked in Canada with elaborate flag-hoisting ceremonies held at the Pakistan High Commission in Ottawa and the Consulates General of Pakistan in Toronto, Vancouver and Montreal.
The main event of the day was the flag hoisting ceremony held at the Pakistan High Commission in Ottawa where High Commissioner for Pakistan Zaheer Janjua hoisted the national flag to the accompaniment of the National Anthem. The Messages of the President and the Prime Minister were read out. Later, a beautiful specially made cake in green and white Pakistani flag colours to fit the occasion was cut in the presence of a large number of Pakistan expatriates gathered at the chancery.
In his message on the occasion, High Commissioner Zaheer Janjua felicitated the Pakistani diaspora in Canada and across the globe on the 76th Independence Day of Pakistan. He paid glowing tribute to the founding fathers of Pakistan for their heroic struggle in attaining the goal of an independent motherland.
He said Pakistan was a country of young nation which had surmounted challenges and overcome many difficulties in the past 76 years. With mutual unity and determination, we can achieve the goal of a strong and prosperous Pakistan as envisioned by our founding fathers, he said.
He described Pakistan's relationship with Canada as cordial, friendly and based on commonality of interests. We have expanded our ties and enhancing cooperation and collaboration in many fields, including trade, commerce, educational and cultural linkages, he added.
He also paid rich tributes to the Pakistani diaspora in Canada for their role in strengthening bilateral relationship and contributing to the development of their adopted home and the country of their origin. He hoped and prayed the Kashmiris suffering under the Indian yoke would win their freedom soon.
Earlier, the High Commissioner also attended 'Pakistan Festival', a cultural fest featuring a host of attractions, including food and clothing stalls, shoes, jewellery, paintings, artifacts etc, at a local park in the Canadian capital. The event was organised by Salam Pakistan Canada, a local orgnaisation of Pakistani Canadians.