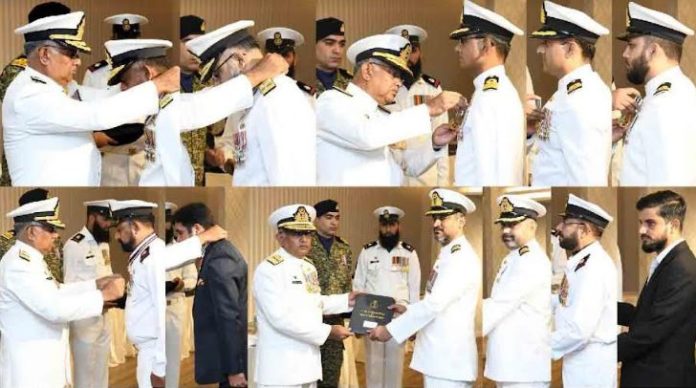 DNA
Islamabad, 08 Aug: Pakistan Navy Investiture Ceremony 2023 was held at Islamabad. Chief of Staff (COS) Vice Admiral Naveed Ashraf graced the ceremony as Chief Guest and conferred various military awards to the naval personnel.
The recipients of Sitara-i-Imtiaz (Military) were: Cdre Syed Naved Ahsan SI(M) and Cdre Amir Hanif SI(M).
The recipients of Tamgha-i-Imtiaz (Military) were: Capt Dr Amjad Nawaz TI(M), Cdr Rizwan Ahmad TI(M), Lt Cdr Muhammad Imran TI(M), Lt Cdr Faisal Ayub TI(M) and Lt Cdr Syed Muhammad Hasan Rizvi TI(M).
02 Awards of TK(M)-II and 09 awards of TK(M)-Ill were also conferred upon CPOs and Sailors of Pakistan Navy whereas Letters of Commendation from Chief of the Naval Staff were awarded to 17 Officers, CPOs/ Sailors and Navy Civilians.
The ceremony was attended by officers of the Pakistan Navy.