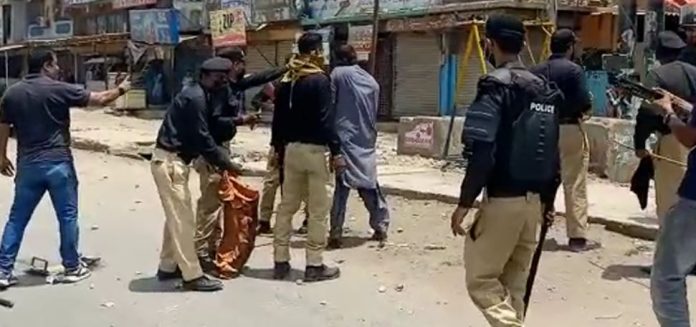 Karachi: An hours-long protest against K-Electric (KE) for carrying out unannounced and prolonged power loadshedding ended on Tuesday evening after Karachi police met with officials from the power utility and assured protesters that their grievances would be addressed.
An elderly woman collapsed and lost her life during the protest, although police denied that she succumbed to any injuries, claiming that she died of "natural causes".
Earlier in the day, police had used tear gas and baton-charged protesting residents of Lyari near the Mauripur Road, who took to the streets against the power utility. The police action came as demonstrators, who were protesting since last night, burnt tyres and blocked the road — which links the Karachi Port Trust (KPT) and SITE industrial areas — for traffic.
DIG South Sharjeel Kharal told that Karachi Commissioner Mohammed Iqbal Memon had called a meeting at his office which was attended by KE officials. The ongoing protest against prolonged power cuts in the metropolis came under discussion, he said.
The South police chief said the commissioner had called another high-level meeting about the power outages on Wednesday (tomorrow).
Subsequently, the South Deputy Commissioner (DC) Abdul Sattar Isani held talks with the protesters who vacated Mauripur Road after being assured that their grievances and demands — release of detained protesters, exemption from load shedding on Tuesday night and an inquiry to ascertain the cause of death of an elderly female protester — would be addressed.
Isani said the police released the detained protesters, while the KE assured the protesters it would not resort to loadshedding on Tuesday night.
Kharal also defended the police action against protesters earlier in the day, saying officials were "compelled" to take action as Mauripur Road had been blocked for approximately 15-20 hours.
As a result, three or four major arteries were blocked and trucks carrying goods could not move towards KPT, he said. He added that citizens also suffered due to traffic jams caused by the protest.
"Because of the blockade at Mauripur Road, the city's nerve system was adversely affected," the DIG said. Therefore, in the morning both police and Rangers acted in an effort to vacate the road, he said.
Commenting on the female protester's death, the DIG said that police would look into the matter if the victim's heirs wanted to lodge a case.