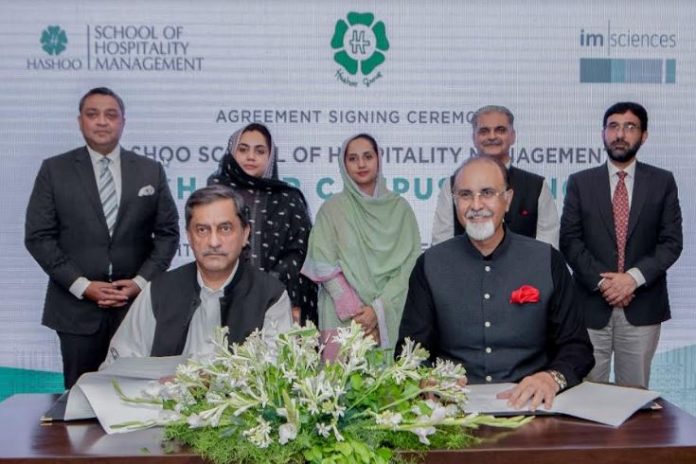 ISLAMABAD, AUG 1 /DNA/ – Hashoo School of Hospitality Management has launched its Peshawar Campus by partnering with Institute of Management Sciences, Peshawar (IMSciences) to reinforce the resolve of the government to promote hospitality and tourism in KP Province. In this regard a signing agreement was held between HSHM and IMSciences at Pearl-Continental Hotel Peshawar. The event was attended by a number of dignitaries from KP Government, IMSciences and Hashoo Group.
HSHM, Pakistan's premier Hospitality and Tourism Management Institute by Hashoo Group, has been actively nurturing talent in the Tourism and Hospitality Industry by imparting knowledge, skill sets and hands-on experience since September 2021. HSHM as an approved study centre for Confederation of Tourism and Hospitality (CTH) which is delivering a gold standard international curriculum developed in collaboration with market leaders in hospitality and tourism.
IMSciences is a highly reputed government owned autonomous institute which was found in 1999. Catering to a large number of students, it is ranked 1st in Khyber Pakhtunkhwa in Management Sciences, and holds its strong position at number 4 in business studies by HEC.
HSHM and IMSciences have joined hands to bring this valued educational program in Hospitality and Tourism, to the youth of KP and surroundings. With seasoned faculty and academic excellence offered by IMSciences, HSHM is offering a 2+1 years Associate degree/ Diploma leading towards pathways to numerous countries leading to a BSC Hons Degree from abroad at a very economical cost.
Chief Guest of the occasion, Mr Daud Khan, Provisional Secretary for Higher Education, Archives and Libraries, brought to light aspects of education needs in KP. "The province is blessed with undiscovered natural resorts and has a lot of potential in promoting Hospitality and Tourism. This partnership between HSHM and IMSciences will be a ray of light for fresh college graduates who want to gain an insight into the hospitality world and groom as industry professionals, this is the place to start. The possibilities are endless" he said.
"I am delighted to share with you the success and inspiration that I feel with the launch of our second campus of HSHM in partnership with the renowned IMSciences, in the beautiful province of KP" said Mr. Haseeb Gardezi, COO Hospitality and Education Division Hashoo Group. "Together we will continue to make this school a resounding success and a place where dreams come true," he said.
"Hashoo Group is playing its role in empowering youth with knowledge and skillsets required at the highest levels of the hospitality industry worldwide. At HSHM Islamabad, and now Peshawar campus, our aim will be to develop business managers and future leaders. With inherent advantage of Hashoo Group standing behind HSHM, we are offering hands on learning experience, free internships and a guaranteed job placement to all our graduates of IMSciences/HSHM in hotels owned and operated by Hashoo Group all across Pakistan" he further added.
Speaking on the occasion, Dr Mohsin, Director IMSciences highlighted the importance of this partnership and the role it can play for the hospitality industry in Pakistan in general, and KP in particular. He elaborated the need of hospitality and tourism-based education in Pakistan which will open doors for students globally. He said "IMSciences is an excellent choice to attain your Hospitality Management training and prepare for a successful leadership career. The institute will offer world-class education in Hospitality, Tourism and Hotel Management through exciting new and dynamic programmes run by HSHM."