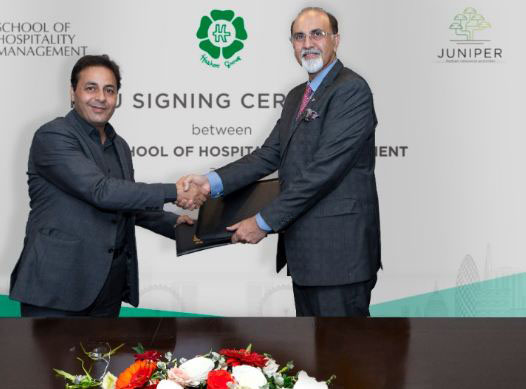 HSHM offer job opportunities abroad to students with key partnerships
ISLAMABAD, JUN 23 /DNA/ – Hashoo School of Hospitality Management (HSHM), the leading institute in the hospitality and tourism education industry, is proud to announce its recent accomplishments in expanding opportunities for its students. As the first batch of HSHM students prepares to graduate in September 2023, the school has secured key partnerships and signed Memorandums of Understanding (MoUs) to enhance job prospects abroad and increase outreach.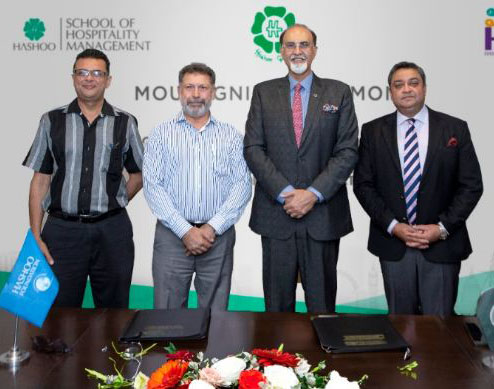 Recognising the growing demand for skilled professionals in the global hospitality industry, HSHM has attracted the attention of recruitment agencies seeking talented individuals for overseas career opportunities. As a result, two MoUs were successfully established between HSHM and prominent recruitment agencies, Juniper Human Resources and Aruj Enterprises (Pvt) Limited. These partnerships will provide HSHM students with valuable job placements abroad and expose them to international work environments. Mr. Haseeb Gardezi, COO of Hashoo Group's Hospitality and Education Division, represented HSHM and signed the MoUs. On the other hand, Mr. Umar Ajmal, CEO of Juniper Human Resources (JHR), signed the MoUs on behalf of Mr. Maqsood Ahmad Butt, CEO of Aruj Enterprises (Pvt) Limited as well as JHR, solidifying their commitment to the partnership.
"We are thrilled to collaborate with Juniper Human Resources and Aruj Enterprises to open up exciting prospects for our students," said Mr. Gardezi on occasion. "These partnerships will serve as a solid platform for our graduates to embark on successful careers abroad, gaining invaluable experience and contributing to the global hospitality industry. We believe in offering students a global curriculum taught by seasoned faculty members from around the world," he further added. "By expanding our presence to other cities across Pakistan, we aim to connect with the country's talented youth and provide them with unparalleled education and career opportunities in the dynamic hospitality industry."
HSHM's mission is to provide world-class education in hospitality, tourism, and hotel management, focusing on practical training, internships, and guaranteed job placements at Hashoo Hotels. In line with this vision, HSHM has previously partnered with IMSciences in Peshawar and recently established a collaboration with Iqra University in Karachi, a prestigious institution with over two decades of experience.
Additionally, HSHM has forged a third MoU with Hashoo Hunar Association (HHA), a subsidiary of the Hashoo Foundation, to support HSHM. With its presence across all regions of Pakistan, HHA will actively promote HSHM's programme across the country, ensuring that potential students are aware of the educational opportunities available at HSHM. Dr. Ahsan Ullah Mir, CEO of HHA, signed the MoU on behalf of Hashoo Hunar Association. With these strategic partnerships and a commitment to excellence, HSHM is poised to continue its mission of shaping the future leaders of the hospitality and tourism sector in Pakistan.