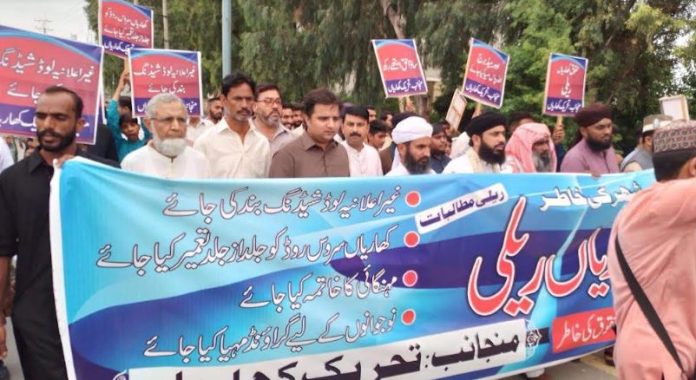 The participants demanded the early construction of Kharian service roads, overhead bridge and the end of unannounced load shedding and inflation and criticized the indifference of the politicians
Staff Report
ISLAMABAD: Tehreek e Kharian "Come out for the sake of your city" was a successful rally and the people of Kharian participated fully and raised their voice for their rights.
The peaceful protest rally started in front of the main Eidgah GT Road Kharian and ended at Azadi Chowk. The participants demanded the early construction of Kharian service roads, overhead bridge and the end of unannounced load shedding and inflation and criticized the indifference of the politicians.
The protest rally was organized by Tehreek e Kharian President Dr Umar Bhatti, Chairman Waqar Ahmed Dar, Yamin Siddiqui, Amir Mushtaq Shani, Junaid Dar and others. Prominent participants included Chaudhry Ali Farrukh, Chaudhry Basharat Ahmad Advocate, Tariq Imam Kokb, Syed Zainul Abidin Shah, Qari Liaqat Ali Jalali, Hafiz Asghar Tawhidi, Chaudhry Asim Bashir Kaki, Mirza Zubair Raza, Chaudhry Fawad Nazir, Captain (Rtd) Jahangir Ghani, Chaudhry Hamza Aftab, Lala Mushtaq Hussain, Aamir Nadeem Wasan, Raja Usman Advocate, Manwar Iqbal Tarr, Chaudhry Naveed Mushtaq, Imran Dar, Irfan Butt, Sajil Raza Chishti, Sajid Hussain , ex president Kharian Peres club Zaman Ahsan and others were included. In the end, the speakers addressed the rally participants , Syed Zainul Abidin Shah prayed and the organizers thanked. SHO Syed Hasnat Shah performed security duties along with police employees.