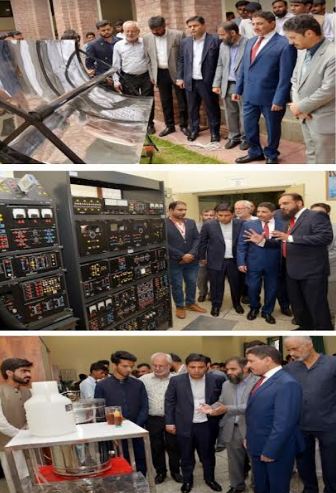 Islamabad, JUL 15 /DNA/ – Ahsan Zafar Bakhtawari, President, Islamabad Chamber of Commerce & Industry (ICCI) said that the developed countries have achieved phenomenal economic growth by promoting strong academia-industry linkages and urged that we have to adopt the same approach to promote industrialization and revive the economy. He said this while addressing as Chief Guest the inaugural ceremony of TECHSPARK Exhibition organized by the Industrial Liaison Office of the Faculty of Engineering & Technology (FET) of the International Islamic University Islamabad (IIUI).
Ahsan Bakhtawari said that the close academia-industry linkages would help produce demand-driven students, improve the efficiency, productivity and competitiveness of industry and manufacture value-added products to boost exports. He along with Dr. Hathal Hamoud Alotaibi, President of IIUI and delegation of ICCI visited the various stalls set up by the final year students in the exhibition and said that the students had prepared the projects according to the needs of society. He assured that ICCI will help introduce these students to the concerned industries so that their projects should benefit the society. He further said that ICCI is ready to provide opportunities of internships to the IIUI students. He also appreciated the role of the Saudi Government in promoting industry and education in Pakistan.
Ahsan Zafar Bakhtawri also met with the President, IIUI Dr. Hathal Hamoud Alotaibi and discussed with him matters pertaining to mutual cooperation and initiatives for academia industry linkages. The President IIUI said that the universities must address the requirements of society and IIUI is focusing on research in the light of contemporary trends. He said that exhibitions such as TECHSAPRK provide opportunities to students to get introduced to industry. He said that IIUI shall focus on initiating joint ventures with ICCI to build a strong bond between academia and industry.
Speaking on the occasion, Prof. Dr. Nadeem Ahmed Sheikh, the Dean of the Faculty of Engineering and Technology, IIUI congratulated the organizers for putting up such a remarkable exhibition. He emphasized the significance of providing a platform for students to showcase their abilities and practical skills while offering industries an opportunity to discover and recruit exceptional talent.
The exhibition provided a good platform to the students to demonstrate their innovative projects and foster their professional development. It also offered an opportunity to stakeholders from various industries, institutes, and community members to visit the Faculty of Engineering and Technology at IIUI. The event showcased final year design projects (FYDP) of students from the Department of Mechanical Engineering (DME) and the Department of Electrical, Computer Engineering (DECE) and Department of Civil Engineering.