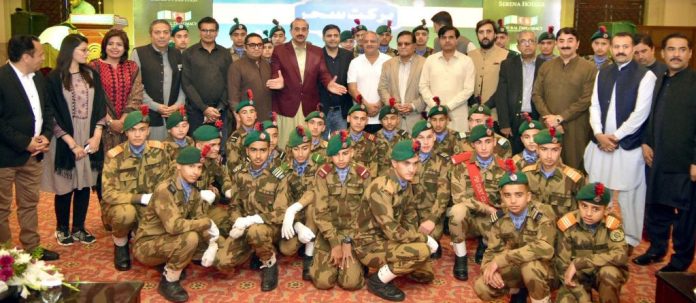 Islamabad, APR 9: /DNA/ – The Islamabad Chamber of Commerce & Industry hosted a Barkat-e-Sehar program in collaboration with Serena Hotels, Islamabad and collected donations of around Rs.20 million for Pakistan Sweet Homes. Prominent traders and industrialists of the city attended the program.
Addressing the event, Ahsan Zafar Bakhtawari, President Islamabad Chamber of Commerce and Industry announced to give 50 kanal land in Chakwal to Pakistan Sweet Homes (PSH) for constructing its branch in that area. He paid tributes to the services of Zamrud Khan, Patron in Chief of Pakistan Sweet Homes, who has dedicated his life for the welfare of orphans. He said that Zamrud Khan was grooming and educating orphans like a father which was commendable. He urged the members of the business community to fully cooperate with Pakistan Sweet Homes so that this institution could continue to provide better care to the orphans and enable them to become productive citizens of the country. He thanked the traders and industrialists for making rich donations for PSH and assured that ICCI would continue to cooperate with PSH in this noble cause.
Speaking on the occasion, Zamurrad Khan Patron in Chief, Pakistan Sweet Homes thanked ICCI members for contributing to the welfare of angels and fairies of Pakistan Sweet Homes. He also thanked Ahsan Zafar Bakhtawari, President ICCI for announcing 50 Kanal land for PHS and said that soon, the construction of a center of PHS would be built on that land. He said that with the blessings of Allah the Almighty and the cooperation of philanthropists, PSH has been making good progress day by day and has set up many centres across the country. He said that with the help of philanthropists, the first cadet college in the history of the world has been set up on an area of 80 kanals for orphans on GT Road in Sohawa in which hundreds of students are currently studying. He said that his aim was to make the children of Pakistan Sweet Homes proud citizens of Pakistan so that they could not only play an active role in the development of Pakistan but also make the country proud of them. He said that ICCI has always cooperated with PSH and hoped that this tradition would be maintained in future as well.

Zafar Bakhtawari, Secretary General UBG said that Zamurrad Khan has brought a revolution in serving the orphan children as he has built many centres for them. He said that Zamurrad Khan has been given Hilal-e-Imtiaz in recognition of his services for orphans and hoped that a day will come when he will be given the Nobel Prize that would make him pride of Pakistan.
Faad Waheed Senior Vice President, Engr. Azhar ul Islam Zafar Vice President ICCI, Sheikh Baser Daud, Ch. Javed Iqbal, Akhtar Hussain, Dr. Usman, Humayun Kabir, Muhammad Naveed Malik, Khalid Chaudhry, Faheem Khan and others were present at the occasion.