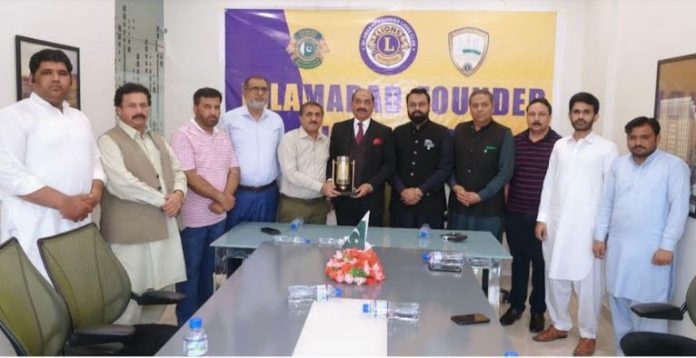 Islamabad, JUN 3 /DNA/ – The government should focus on climate resilient development to ensure sustainable growth as increasing climate change risks would badly affect the economic growth of the country and give rise to poverty. This was said by Jamshaid Akhtar Sheikh, Acting President, Islamabad Chamber of Commerce & Industry while addressing as Chief Guest an awareness seminar organized by the Islamabad Founder Lions Club to mark the World Environment Day.
Sheikh Amir Waheed, former President ICCI presided over the seminar. Muhammad Naveed Malik former SVP ICCI, Engr. Faheem Iqbal, Engr. Azhar ul Islam, Faizan Shehzad, Dr. Afshan Malik, Saima Huma, Nasira Ali, Gulsher Sajjad, Shazia Rizwan, Ch. Muhammad Ali, Naveed Satti and others were present at the occasion.
Jamshaid Akhtar Sheikh said the increasing risks of climate change would create multiple problems in Pakistan including food security, energy security and water security issues. He stressed that the government should adopt a proactive approach to deal with the rising risks of climate change. He said that the average forest cover area in the world was up to 25 percent, but forest cover area in Pakistan was less than 5 percent, which should be a cause of concern for the policymakers. He appealed to the public and private sectors as well as the civil society members to plant maximum trees that would help in promoting a healthy environment in the country.
Sheikh Amir Waheed, former President ICCI said that the damages to crops in Pakistan in 2010 due to flash floods had cost $4.5 billion and urged that the government should take strong measures to minimize the climate change risks in the country. He said that climate change would affect many sectors of the economy including energy, industry, health, water, food, urban development, housing and transport etc. and all possible policy measures should be taken to minimize the environmental issues in the country.
Muhammad Naveed Malik former Senior Vice President ICCI, Azhar ul Islam and others also spoke at the occasion and stressed that the government should formulate an immediate climate action plan after consultation with relevant stakeholders to combat the climate change issues.