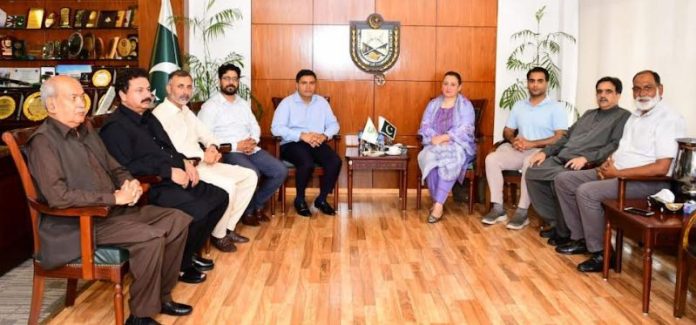 Islamabad, JUL 26 /DNA/ – Maryam Iqbal, Chairperson, Handicrafts Association of Pakistan (HAP) visited Islamabad Chamber of Commerce and Industry (ICCI) and held a meeting with Ahsan Zafar Bakhtawari, President ICCI to organize a handicrafts expo in Islamabad to promote trade and exports of this sector. The foreign diplomats and other stakeholders would also be invited to the expo. Both sides also exchanged views on the need of bilateral cooperation to promote the interests of handicrafts businesses.
Speaking on the occasion, Ahsan Zafar Bakhtawari said that Pakistan produces a wide range of handicrafts, including textiles, embroidery, beadwork, block printing, patchwork, woodcrafts, pottery, jewellery & stone carving and there is a great need to organize exhibitions of these products to promote their trade and exports. He said that the handicrafts industry plays an important role for the economy as it provides jobs to women, brings prosperity and earns precious foreign exchange with the minimum capital investment. He said that the country's economy cannot achieve smooth growth without the better participation of women in economic activity and the handicrafts is the only industry, which offers great opportunities for women participation in productive activities. He said that Pakistan should learn from the Chinese experience, which has become the world's biggest manufacturer of handcrafts, accounting for over 40% of global trade. He said that Joint ventures between women entrepreneurs of Pakistan and China should be encouraged to promote the handicraft industry and uplift Pakistan's economy.
Ms. Maryam Iqbal, Chairperson, Handicrafts Association of Pakistan said that promotion of handicrafts businesses would reduce poverty & help in women empowerment. She said that the rising cost of inputs, lack of easy access to finance and poor marketing network were the major hurdles that were holding back this industry from its actual growth potential. She stressed that the government should take measures to reduce the cost of doing business for this sector, help in its proper marketing, set up expo centres for this sector and encourage frequent exhibitions of handicrafts products to promote this sector up to its real potential. She also briefed the President ICCI about the plans and activities of her Association for the betterment of the handicrafts sector.
Ameer Hamza, Khalid Chaudhry, Kashif Zaheer, Malik Mohsin Khalid, Zulqarnain Abbasi and others were present on the occasion.