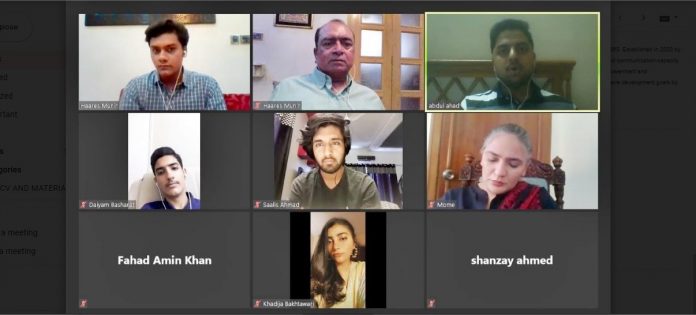 RAWALPINDI, July 10 (DNA) – Youth from the twin cities of Rawalpindi and Islamabad consolidated 'Green Neighbourhood' initiative here Friday in a virtual consultative meeting of the Islamabad Devcom Centennial Leo Club (IDCLC). Objective of the initiative is to engage young people and their families and friends to add value to the ongoing campaigns of clean and green cities.
Speaking about the concept of 'Green Neighbourhood', the IDCLC president Haares Munir said, Green Neighborhood means that the young citizens and their families and friends would be engaged to take care of their neighbourhood by keeping it clean from littering, domestic solid waste and flowing out sewage. The clean part of the initiative also includes personal hygiene including regular handwashing and safe water and sanitation messages.
The second part of the initiative, Haares Munir said, is to engage the citizens of all ages to make their own neighbourhood green by protecting the green cover around them and add more sustainable plantation of saplings. Streets and the neighborhood area that meets the needs of peoples' daily activities and allows communities to control pollution and water abuse, and to promote energy conservation and developing neighbourhood bonding to improve social security. It would surely improve natural and social environment.
Environmentalist Mome Saleem appreciated youth for chalking out a citizens' centric initiative to improve local environment. Every citizen needs to contribute to clean up the surroundings and to enhance environmental conditions.
She said different parts of Rawalpindi especially needs citizens interventions to keep in clean and green. The local youth could play a pivotal role in it.
She also educated the participants of the consultation on the advocacy skills to broadly engage the citizens in clean and green initiatives voluntarily.
Shanzay said Citizens are doing good in Islamabad, the IDCLC volunteers shall focus on the congested areas in Rawalpindi where littering, domestic waste management and garbage collection are the main issues.
Saalis Ahmad asked for a green portal where buyers and seller of plats and seeds could interact and facilitate each other. He suggested different communication means to send the message across to the local stakeholders.
highlighted the importance of recycling of different waste materials and to use them in different ways in daily life. She also put up the idea of taking care of birds by feeding them and arranging water pots for the birds and stray animals.
Neighbourhood is widely recognised as a fundamental building block of a city, and a good starting point to create a truly sustainable community. Green neighbourhood is also broadly defined as being moderately dense, mixed-use, designed at a human scale, active and public transportation oriented and literally "green". A green neighbourhood assessment system is a tool that evaluates sustainability performance of a given neighbourhood against a set of criteria. This paper evaluates 20 major international green neighbourhood assessment systems in according to their sustainability coverage and features. Sustainability aspects used in this paper include transportation, infrastructure, ecology, resources, energy, community, location, economy and building. The results of this study show that community, resources and ecology are the three major sustainability aspects that applied in 18, 17 and 16 out of 20 assessment systems respectively. However, after assessing the sustainability aspects by their weightings in the assessment systems, the differences among them are reduced and their rate of importance in all the assessment systems became closer. Ecology, energy, transportation, resources and economy receive the highest weightings after affecting by their weightings and incredibly community dropped to the very low importance of weightings. Regarding regional distribution of the systems around the world, initiative of green neighbourhood assessment system was first started in United Kingdom and European Union in 2000 and 2004 respectively and this trend reached to United States in 2005. Meanwhile, LEED (ND) with 184 certificates/projects is the main well-known systems in the world followed by Envirodevelopment in Australia and SPeAR in the United Kingdom with 100 certificates/projects each. It is also found that the highest certification fee (minimum) is LEED (ND) with US$30,000 followed by Green Star (Communities) and CASSBEE and the highest evaluation fee (maximum) goes back to DGNB followed by LEED (ND) and Green Star (Communities). Future research can be conducted on the implementation of several green neighbourhood assessment systems on actual projects and compare their capabilities in measuring the rate of greening.DNA
==========