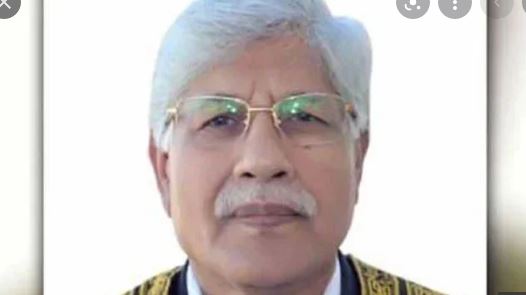 ISLAMABAD, DEC 07 (DNA) – The Islamabad High Court on Tuesday ordered former chief judge of Gilgit-Baltistan Supreme Appellate Court Rana Shamim to submit his original affidavit by next Monday and if he failed to do so then the court would indict him.
The former GB judge despite court order has failed to submit his original affidavit and also failed to file his response on the court's show-cause notice.
However, during the court hearing, Mr Shamim termed the contents of his affidavit absolutely correct prompting the chief justice of Islamabad High Court to say that if he brings only one proof before the court, then he (the CJ) would take the responsibility.
IHC Chief Justice Athar Minallah on Tuesday was hearing the contempt case against Rana Shamim and others in Islamabad. During the hearing, the former top judge of the GB acknowledged the veracity of the contents of his affidavit saying that though its contents were correct but it wasn't meant for publishing.
On this, the IHC CJ remarked that the narrative which was being made out of his affidavit, was very painful. "If there is any truth in this narrative and if you bring only just one proof, then I will take the responsibility.
I have full trust in each and every judge of this high court," Justice Minallah said to the former GB top judge. He further said that they wanted to change the culture of this high court. "Do not assume it is a court contempt proceeding. It's my accountability as well. Now this narrative must cme to an end," he added.
While addressing Mr Shamim, Justice Minallah remarked that he belonged to a city where the brave Waqar Seth served as judge. Never ever Waqar Seth complained about any pressure, he added.
"As Waqar was an independent-minded judge, I have same kind of trust in the judges of this court. That's why I'm telling everyone that it's accountability of all of us," the IHC CJ said.
Chief Justice Minallah also inquired from amicus curiae Faisal Siddiqui what were the responsibilities of a newspaper for publishing a news item. Is it not compulsory to take point of view of all the concerned parties before publishing any material?
Faisal Siddiqui informed the court that the point of views of registrars of the Supreme Court and IHC were not taken in this regard. He said that Rana Shamim told the court that it was a secret document, not mean for publishing.
He argued that if the document was private, then the court could not initiate a contempt case. Chief Justice Minallah said that judges could not hold press conferences nor could they give any explanation. The impression was given that a certain person (Nawaz Sharif) must not be released on bail before elections and pressure was exerted on judges, he added.
He said Rana Shamim levelled a serious accusation against a former chief justice. He said at the time of the hearings on the appeals, Justice Amir Farooq was on holidays. Was it possible that a vacationing judge was in cahoots with two other judges who were working, he asked adding that the bench was comprised Justice Mohsin Akhtar Kiyani and Justice Mian Gul Hassan Aurangzeb.
He observed that such news kept publishing even after the release of Nawaz Sharif. The impression was given that Nawaz was released after the elections and not before the polls. The IHC CJ wondered why Rana Shamim gave affidavit after three years. If it's a case of conscientiousness, then why he didn't submit it somewhere else (at proper forum), he added. = DNA