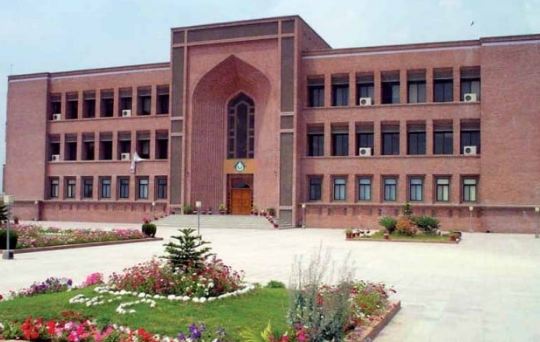 ISLAMABAD, JUL 05 (DNA) —Dr. Hathal Hamoud Alotaibi, President, International Islamic University Islamabad (IIUI) has directed that students facilitation must be a top priority and it must be ensured that their issues must be solved within hours through one window operation.
In order to address the issues and solution of academic matters of the students at earliest, the IIUI President has constituted a committee instructing that the SOPs for newly established Students Facilitation Centre must be prepared within a week.
A meeting of the committee constituted by Worthy President IIUI for preparation of SOPs of the newly established Students Facilitation Centre (male & female) at International Islamic University Islamabad, was held here at new campus on Wednesday.
The meeting was chaired by Prof. Dr. Muhammad Irfan Khan, Dean Faculty of Sciences. It was attended by members of the committee including Prof. Dr. Najeeba Arif, Dean Faculty of Languages and Literature, Prof. Dr. Zafar Iqbal, Dean Faculty of Social Sciences, Prof. Dr. Muhammad Sarwar, Dean Faculty of Education, Dr. Ibrar Anwar, Provost, Male, Dr. Bushra Hassan, Assistant Prof. Faculty of Social Sciences, Mr. Ahsan Mirza, Director BIC, Mr. Noman Mashal, In-Charge (Admissions) and other relevant officials.
The committee took various decision to chalk out a comprehensive road map to have SOPs for the smooth functioning of the facilitation center. It identified the steps and procedures by devising a set up based on the various desks dealing with various procedures as per their domain. The committee mulled over establishing dedicated desks for admission, fee/ finance/scholarship, examination, clearance of dues & degree/ alumni affairs, career counselling and matters related to Business Incubation and Students Advisor Office and separate desk for the online and telephone based queries were proposed.
The house was apprised that as per desire and vision of the Worthy President IIUI to facilitate students and make IIUI a true hub of learning, the center has been established to facilitate students through a one window operation.
The committee envisioned that the center through an integrated set up under the umbrella of Campus Management System shall solve the issues being faced by students during and after their degree completion.
The chair said that as directions of the Worthy President IIUI the process of preparation of SOPs for the Students Facilitation Centre shall be completed in a few days. The committee mainly focused on reducing unnecessary steps in various procedures to facilitate the students. The committee shall complete the task within a week. — DNA