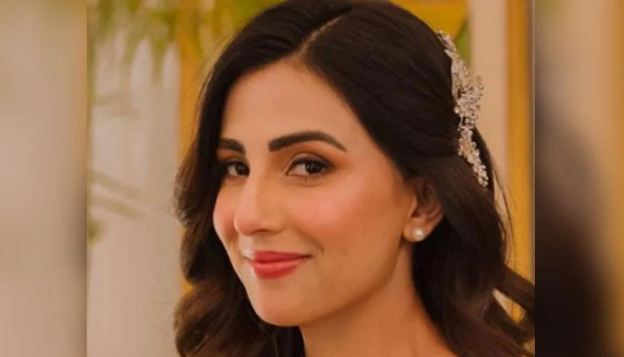 Pakistan actor Ushna Shah who recently came under fire on social media for saying that she would not "bully or ostracise" anyone for fear of the grave repercussions such measures may have on those being treated this way while referring to co-actor Feroze Khan, took to social media once again to justify her stance.
The Habs starlet's comment drew great ire since Khan had been bashed on social media following allegations of abuse by his wife.
Taking to Instagram on Saturday, Ushna wrote a heartfelt and detailed note on her stance on the matter.
"This Ramzan, I've stood up to a powerful corporation in solidarity with a woman who lost her father to them. I've stood up for a friend taken into custody unjustly."
The star's argument is based on the circumstance faced by late TV show host Aamir Liaquat — who in the months leading up to his demise gained excessive notoriety for several controversial statements and was subsequently bashed on social media.
Citing the example, Ushna wrote: "I've urged people to not abuse an ex-colleague who allegedly wronged a woman, to a point where we might lose him like we lost Amir Liaquat- I have urged people not go to the other end of extreme from which there is no turning back, for I have seen what social media does; the punishment of stealing may be chopping hands, we tend to chop heads."
Im allowed my own introspection: Ushna Shah
She then referred to backlash and trolling she herself had faced during her wedding ceremony at the end of February.
"The backlash at my choice to wear the supposed "Indian style lehenga" and dance at my own wedding, was a prime example.
"So when hundreds of thousands of people abuse a person for whatever they allegedly did and abuse their family relentlessly, day and night, non-stop, I know what that can do and it isn't fair punishment, she wrote.
She then responded to the way people had interpreted her previous comments on the Feroze Khan saga and defended her right to her own opinion, saying she sided with neither the "extreme right nor left".
"What I stand for is as per my own conscience. I'm allowed my own introspection, even if it faces backlash. I don't have to adhere to the extreme right or left. I won't apologise for it. I am not an "abuser sympathiser", I am a human sympathiser, and I don't believe in killing people for a crime that doesn't warrant an execution, even if the alleged criminal was found guilty."
Highlighting the impact of bullying and excessive trolling on social media, Ushna reiterated that even those who had allegedly been found guilty should not be pushed to extremes if the crime did not justify it.
"I've had enough of faceless mob-justice, the world has become too ugly and toxic, from the extreme conservative end to the extreme woke end. I have a voice, I will lend it to any cause I see fit, be it animals, be it women who are allegedly wronged, be it actors who passed away and deserved (and vocally expected) more recognition from the people I work for, be it alleged wrong-doers who are being punished too extremely.
"This is how I am wired, this is how I can face myself and my God. If my voice bothers the world, don't make news out of it. I will not sell out my conscience."