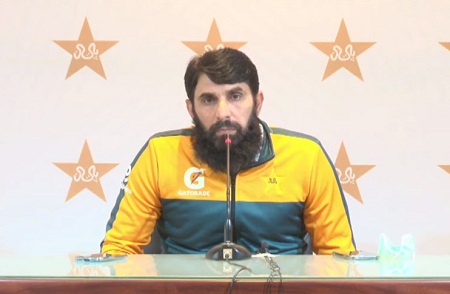 Lahore : Pakistan men's team head coach Misbah-ul-Haq thinks that he is not the only factor behind the national team's bad performances over the past year.
The 46-year-old Misbah will appear before the Pakistan Cricket Board's (PCB) cricket committee along with bowling coach Waqar Younis after the team's disappointing performance on the tour of New Zealand.
Misbah wants the cricket committee to do 'fact-based analysis' which will further help the cricket of Pakistan.
"We have to understand all factors behind team's defeat. There can't just be me behind the dipping in performances. Nothing will change If one person leaves the system but we must address all the problems realistically," Misbah said in a presser at Gaddafi Stadium.
Misbah took responsibility for the team's defeat but wants critics to understand the reasons behind failures.
"The players worked hard in the available resources and conditions after going through a tough quarantine in New Zealand," he added.
"COVID-19 is impacting not just our performances but it has affected other teams like India and Sri Lanka too. Cricket is completely changing due to the virus but now we have to get accustomed to this," he maintained.
Misbah believes skipper Babar Azam's injury was also the biggest factor behind the defeat. "Babar's injury was a big miss for us as he has been among runs in the past year or so. Pakistan without Babar is like New Zealand without Kane," he added.
"We should also accept that the Blackcaps were better than us in all three departments. They have been playing good cricket for the past couple of years. We also tried our best on the field during the series but unfortunately, results did not go our way," he maintained.