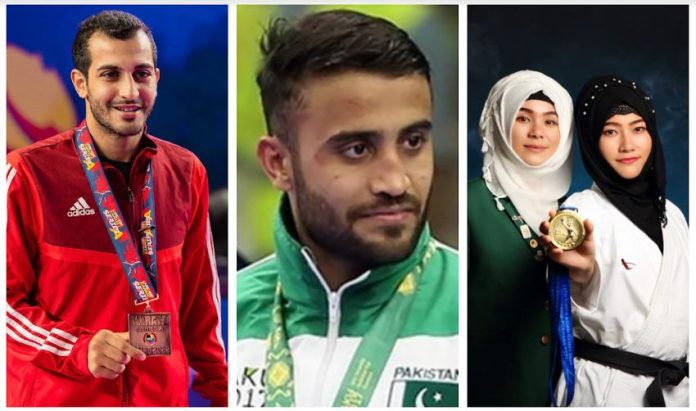 Asma Siddiqui Bangash
Karate has become a prominent martial art worldwide, garnering significant attention and recognition. It has witnessed a surge in popularity in recent times, particularly in countries such as Egypt and Pakistan, where it is widely practiced as a means of self-defense or for fitness. In Egypt, karate has a rich history dating back to the 1950s, when it was initially introduced to the nation. Subsequently, the sport has gained traction and enjoys a broad following, with numerous academies and clubs offering instruction and training in the art. Notably, the Egyptian Karate Federation (EKF) is a renowned organization responsible for promoting and advancing karate in the country. The EKF has played an instrumental role in establishing karate as a reputable sport in Egypt, fostering the growth of talented karate athletes who have represented the nation on national and global platforms.


Egypt has long been a hotbed for talented karate athletes, producing world-class competitors who have achieved great success in both kata and kumite competitions. Among them are Moamen Mohamed, Mohamed Ali, and Hedaya Wahba, three shining stars in the world of karate who have brought home numerous gold medals and represented their country with pride on the global stage.

1) Moamen Mohamed is a highly respected figure in the field of karate, owing to his outstanding accomplishments in the sport. As a professional athlete and member of the Egyptian national karate team, Moamen has achieved remarkable success, earning two world championship titles. He notably won a silver medal in the U21 category-67kg in Spain in 2017 and a bronze medal in the U21 category-60kg in Chile in 2019. His exceptional performance has earned him numerous accolades, including the Republic Medal for Sport, which was bestowed upon him by President Abdel Fattah El-Sisi. Between 2015 and 2017, Moamen competed for the Shabab Al Ahli Club in the UAE, where he won the UAE President's Cup and the UAE League. In 2019, he joined the Al Hilal Club, and his participation led them to win the Arab championship for clubs, further cementing his reputation as one of the top karate athletes in the region.

Moamen secured a third-place finish in Series A Cairo 2022 and a first-place victory in Series A Kocaeli Turkey 2022. Currently, he holds the 12th position in the category-67kg Kumite males and is determined to climb to the top of the world rankings in 2023 while aiming for a medal in the upcoming Men's Karate World Championship, which is scheduled to take place in Hungary in October.

2) Mohamed Ali is a true karate champion who has proven his mettle time and again. His skill and dedication have earned him top honors at the African Championships and Arab Championships, as well as a coveted spot on Egypt's national team at the World Championships. Whether he's competing in kata or kumite, Mohamed Ali is a force to be reckoned with, and his remarkable achievements have inspired countless young athletes across the region.

3) Hedaya Wahba is another Egyptian karate superstar who has made her mark on the world stage. With her exceptional technique and unwavering determination, she has emerged as a dominant force in both kata and kumite competitions. Hedaya's long list of accolades includes gold medals at the African Championships, Arab Championships, and Islamic Solidarity Games, as well as a triumphant victory as part of the Egyptian team that took home gold in the women's kumite event at the 2019 African Games.


Pakistan's karate scene has always been vibrant, with many talented athletes showcasing their skills in national and international competitions. However, among the sea of competitors, there are a few who have risen above the rest to become legends in their own right.

One such athlete is Saadi Abbas, whose name is synonymous with karate excellence in Pakistan. He has clinched numerous titles throughout his illustrious career, including gold medals at the South Asian Games, Asian Games, and Islamic Solidarity Games. Abbas has also made his mark on the global stage, representing Pakistan at the World Championships with distinction.

Shahida Abbasi, a trailblazing athlete, has demonstrated her remarkable abilities on the international stage with stunning results. With her incredible talent and perseverance, she has earned gold medals at the South Asian Games, Asian Games, and Islamic Solidarity Games, showcasing the best of what Pakistan has to offer. Her participation in the World Championships, where she represented her homeland with honor and distinction, has further cemented her place as one of the greatest karate athletes of all time.

Ahmed Amin Bodla, a rising star of the sport, has made his mark in both kata and kumite competitions. His dedication to his craft has led him to triumph at the South Asian Games, where he claimed the top prize in kumite, and to represent Pakistan with pride at the World Championships. A key member of the Pakistani team that clinched gold in the men's kumite event at the 2019 South Asian Games, Bodla's future in the world of karate looks bright indeed.

These three athletes embody the very best of Pakistan's karate legacy, and their accomplishments have inspired generations of aspiring athletes to follow in their footsteps. Their dedication, perseverance, and talent have undoubtedly left an indelible mark on the sport of karate, and their legacy will continue to shine bright for years to come.


How can we sort out the problems of Karate Athletes?

Karate has a long and storied history in Pakistan, with a wealth of talented athletes achieving impressive feats on the international stage. Over the years, Pakistani karatekas have consistently demonstrated their skill and dedication to the sport, earning acclaim and recognition around the world. From thrilling competitions to inspiring training regimes, the country's karate community is a testament to the passion and commitment of its practitioners.

One of the biggest challenges facing Pakistan's karate athletes is a lack of funding and resources. Without proper support, it can be difficult for Karate athletes to train and compete at the highest international levels. To address this issue, the Pakistan Karate Federation (PKF) should work to secure more funding from the government and private sponsors. Furthermore, the Karate federation should work to establish partnerships with notable organizations in order to provide karatekas with access to state-of-the-art training facilities, atmosphere, and equipment.

Another challenge facing Pakistan's karate athletes is a lack of exposure to international competitions. Without the opportunity to compete against athletes from other countries, it can be difficult to gauge how Pakistani athletes stack up against their peers. To address this issue, the PKF should work to send more athletes to international competitions, as well as invite foreign athletes to compete in Pakistan. By doing so, Pakistani athletes can gain valuable experience and exposure to different styles of karate.

In terms of talent selection, the PKF should focus on identifying athletes with natural abilities and then providing them with the training and support necessary to excel in the sport. This can be done through talent identification programs, where coaches and scouts travel throughout the country to identify promising young athletes. The PKF should prioritize establishing partnerships with schools and community organizations. By partnering with schools, for instance, the PKF can introduce karate to students and potentially integrate it into their physical education curriculum. Partnering with organizations can help the PKF reach a wider audience and provide access to resources that may not be readily available. Overall, forging partnerships with schools and community organizations can be an effective way for the PKF to cultivate interest in karate among young people and pave the way for the next generation of athletes.

Finally, the PKF should prioritize the development of coaches and officials. It can be very hard for athletes to reach their full potential without competent coaches and officials. The PKF should work to provide coaches with access to training programs and resources, as well as establish a certification process to ensure that coaches and officials meet certain standards.

In conclusion, Pakistan has a wealth of talent when it comes to the sport of karate. In order to compete on a level playing field with athletes from other countries, the PKF must address several challenges. By securing more funding, providing athletes with exposure to international competitions, prioritizing talent selection and development, and focusing on the development of coaches and officials, the PKF can help ensure that Pakistani karate athletes have the resources and support necessary to excel in the sport.