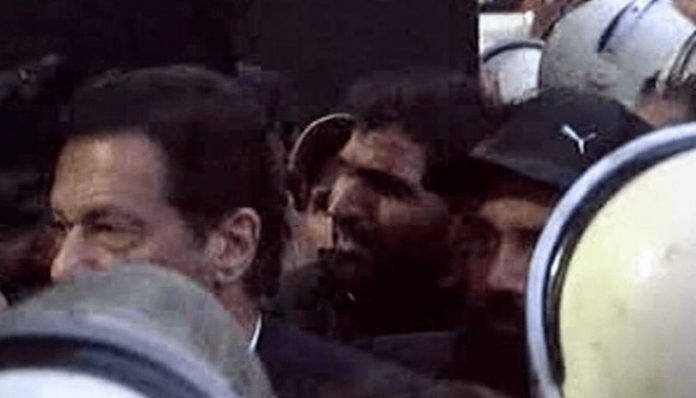 PTI Chairman Imran Khan arrived at the Lahore High Court (LHC) on Friday after filing separate petitions seeking protective bail in nine first information reports (FIRs) registered against him in Islamabad and Lahore.
A two-member bench, comprising Justice Tariq Saleem Sheikh and Justice Farooq Haider, will hear the pleas for protective bail in four of the nine cases registered under terrorism charges. The request for bail in the remaining five cases will be heard by a single-member bench comprising Justice Sheikh.
Two of the cases are regarding vandalism at the Islamabad Judicial Complex while another concerns the police operation at Zaman Park. Moreover, one of the cases concerns the recent death of PTI worker Zille Shah.
Ahead of Imran's arrival, the LHC had directed Punjab police chief Dr Usman Anwar to facilitate the PTI chief in reaching court. The court initially said that it would hear Imran's request for protective bail at 5pm but later granted time till 5:30pm.
Key developments so far:
Imran arrives at LHC; court to hear Imran's pleas for protective bail in 9 cases
IHC suspends Imran arrest warrants till March 18
LHC extends bar on police action at Zaman Park till 3pm today
PTI supporters stand guard outside party chairman's residence to prevent possible arrest
PTI chief says he will appear before Islamabad sessions court on March 18
Rana Sanaullah says the government will follow due legal process regarding Imran's arrest
---
Imran arrived at the LHC a little after 5:30pm alongside droves of PTI supporters. The LHC's registrar office also accepted a request from Imran's counsel Azhar Siddique seeking permission for the PTI chief's vehicle to enter court premises.
Footage broadcast on TV showed his vehicle entering court premises while while some of his caravan was stopped at the gate. A large number of lawyers were also seen inside the court premises.
However, Imran finally entered the courtroom nearly an hour after arriving at court premises. Footage broadcast on TV showed police in anti-riot gear shielding the PTI chief as he entered.
At the hearing commenced before the two-judge bench, Imran's lawyer Siddique informed the court that there were six cases registered against the PTI chief in Islamabad and three in Lahore. He said Imran had filed pleas for protective bail in order to appear before the relevant courts.
He further said that Imran had also not been informed of the details of some of the cases registered against him. At this, Justice Sheikh said that the court would only grant bail in the cases filed before it.
Taking the rostrum, Imran said that there were so many cases registered against him that when he was granted bail in one, yet another would be registered against him.
Referring to the police operation at Zaman Park, he said that it had never happened before. He thanked the LHC for stopping the police operation, saying that the court "saved him".
Justice Sheikh told the PTI chief that "the solution for all problems is found in the law". He said that it would be better if Imran "went with the system".
"There was an assassination attempt on me," Imran said, adding that a suicide attack had previously occurred at the Islamabad court he was supposed to appear in. "I believe in the rule of law. I cannot even imagine of not appearing in the courts," Imran said.
"You have to bring yourself into the [legal] system," Justice Sheikh said. "There was no problem in this case. You mishandled it," the judge said.
Meanwhile, the lawyer for the Punjab government said the PTI side was claiming there were five terrorism cases against Imran when there were actually six.
"There are 94 cases against me. If six more are registered, it will make it a century," Imran quipped.
'Imran to assure judge he is ready to appear before Islamabad court'
PTI's Fawad Chaudhry had told reporters earlier in the day that Imran planned to approach the LHC and provide assurance that he was ready to appear before the Islamabad sessions court — which has issued non-bailable arrest warrants for the former premier — on March 18.
"Imran Khan will come to LHC himself and assure the judge that he is ready to go to the Islamabad court," Fawad told media persons today, adding that "an undertaking has also been given in this regard".
Speaking to media persons outside the LHC, Chaudhry demanded that the PTI chief should be given a "safe passage" to appear in the Islamabad sessions court.
He clarified that the arrest warrant issued for the ex-premier was merely to ensure his presence in court. "Imran Khan's arrest is not the motive of the warrant. Only ensuring his presence is."