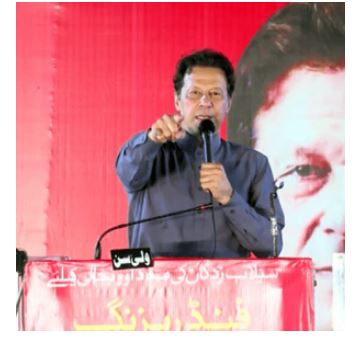 Gujranwala: Former prime minister and PTI Chairman Imran Khan is currently addressing a power show of his party in Gujranwala. Towards the start of the speech, he addressed his party's Insaf Student Federation (ISF) and the youth in general, and said he would need them both in the light of "things I am going to say ahead".
"The thing I am preparing this nation for … I would need the youth of this nation a lot for Haqeeqi Azadi (actual freedom)," he said.
He said no nation can take progress and go up until it breaks the shackles of slavery, adding that Quaid-e-Azam Mohammad Ali Jinnah had freed the nation from the slavery of the Britishers but the nation was now plagued with a different type of slavery.
He reiterated his claim of him being removed from the prime minister's office at the behest of foreign powers and through local players.
Prior to his arrival at the venue, local PTI leadership took turns to address the gathering of party workers and supporters.
The rally will be the last one of the current phase of the PTI's 'Haqiqi Azadi Movement' and the plan ahead is to be revealed tonight, as indicated by Imran himself in a tweet on Friday.