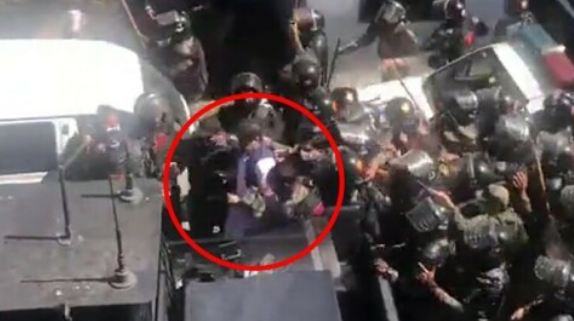 In a shocking turn of events, PTI chief Imran Khan, who was present at the Islamabad High Court (IHC) for two hearings on Tuesday afternoon, was arrested in the Al-Qadir Trust case.
Islamabad police released a statement quoting Inspector General (IG) Akbar Nasir Khan as saying that Imran had been arrested in relation to the case which concerns allegations that Bahria Town allotted land worth Rs530 million to Al-Qadir Trust, owned by the PTI chairman and his wife.
The police chief also said that the situation in Islamabad was "normal", adding that Section 144 had been imposed in the city and action would be taken against violators.
PTI lawyer Faisal Chaudhry had initially confirmed news of Imran's arrest to Dawn.com that had prompted IHC Chief Justice Aamer Farooq to direct the Islamabad police chief, the interior ministry secretary and the additional attorney general to appear before the court within 15 minutes.
The IHC CJ said that he was showing "restraint" and warned that he would "summon" the prime minister if the Islamabad police chief did not appear before the court.
"Come to court and tell us why Imran has been arrested and in which case," Justice Farooq said.
Separately, Barrister Gohar Khan, who was at the IHC during the PTI chief's arrest, alleged Imran was "tortured".
"They hit Imran's head and leg," he told Dawn.com, claiming that Rangers had arrested the ex-premier. Gohar further stated that the PTI chairman's wheelchair was also tossed aside during the arrest.
A Reuters witness said shortly after Imran entered the gate of the IHC, contingents of paramilitary forces and armoured personnel carriers entered after him.
The gate was blocked by the armoured vehicles while Khan was whisked away shortly after under heavy security, the witness added.
The development comes on the heels of the military's rejection of accusations Imran made against DG-C Maj Gen Faisal Naseer. Imran had accused the officer of involvement in the assassination attempt against him in Wazirabad. Imran doubled down on the allegations in a video message today.
The former premier's detention also follows several unsuccessful attempts, including a police raid at his residence in Lahore's Zaman Park, to arrest him which he had managed to evade.
'Imran abducted, scores tortured'
PTI Vice President Fawad Chaudhry tweeted that the IHC has been "occupied by the Rangers" and lawyers "are being subjected to torture".
"Imran Khan's car has been surrounded," he added.
In another tweet, Fawad alleged that Imran had been "abducted" from the court premises while score of lawyers and general people had been "tortured".
"Imran Khan has been whisked away by unknown people to an unknown location," he said.
PTI leader Hammad Azhar said that Imran's arrest was "not acceptable" and asserted that the PTI chief "is our red line". He called on the nation to take to the streets against Imran's arrest.
PTI's Shafqat Mahmood said that he strongly condemned Imran's arrest, alleging that the PTI chief was also "manhandled and mistreated".
"This is height of fascism and totally unacceptable. Rule of law in the country is over," he said.
PTI's Azhar Mashwani alleged that Imran had been "abducted" from inside the court by Rangers. He said that the party had given an immediate call for staging protests in the country.
PTI leader Musarrat Cheema, in a video message on Twitter, said: "They are torturing Imran Khan right now […] they are beating Khan sahib. They have done something with Khan sahib."
PTI's official Twitter account also shared the video of Imran's lawyer, saying that he was "badly injured" outside the IHC.
It also shared a video of visuals from Imran's alleged arrest. "Pakistan's brave people must come out and defend their country," the party said.
Meanwhile, the Islamabad police said that Section 144 had been imposed in the capital city. It also rejected the PTI's allegations that people were tortured, adding that police had encircled Imran's car.
This is a developing story that is being updated as the situation evolves. Initial reports in the media can sometimes be inaccurate. We will strive to ensure timeliness and accuracy by relying on credible sources, such as concerned, qualified authorities and our staff reporters.