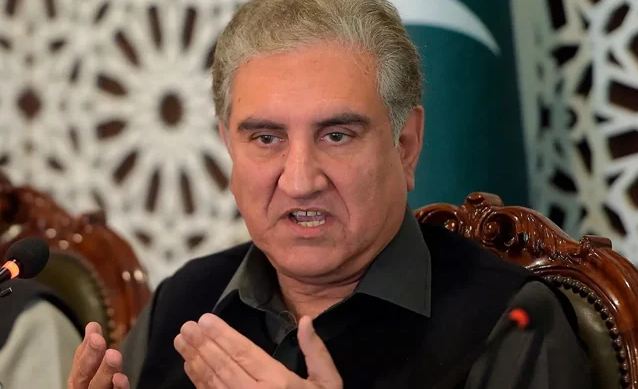 ISLAMABAD, AUG 5: Pakistan Tehreek-e-Insaf (PTI) Vice Chairman Shah Mehmood Qureshi Saturday rejected the conviction and arrest of Chairman Imran Khan in the Toshakhana case and said the "much-feared" ruling by a trial court was state-sanctioned and premeditated.
Qureshi said: "I reject the court's verdict and believe it is a politically motivated and predetermined decision which was already expected."
"Chairman Imran Khan had already been saying that the judiciary has made up its to arrest me," he said while quoting further his party's chief, "They are determined to disqualify me which was already indicated in Khan's public speeches.
Qureshi also expressed his concerns upon the arrest of his party head and directed questions to the judiciary asking about whether 70-year-old Khan was offered a fair trial.
He quoted Constitution's Article 10(1) which stipulates: Every citizen will be given justice. He asked was this criterion met while Khan's trial.
Asking further from the judiciary, the 67-year-old leader said: "The criteria of justice which is impartiality, and adequate representation, presenting witnesses before the jury, were all these provided to his party head?"
"Was there not anyone in the whole judiciary, except Justice Humayun Dilawar who can fulfil the requirements of justice?" he remarked.
Vice Chairman was of the view that "the cases were repeatedly sent to the trial court with expectations that similar verdicts will be issued."
"And when Imran Khan already expressed his mistrust and indicated that the judiciary's mind is made up was it not the requirement of justice that the judge recuse himself? Qureshi stated.
"It is to be thought, he said, why this decision was taken in such haste and announced on the weekends."
The former foreign minister claimed that "it is a cause of concern that as the verdict is just being announced and the news was just aired on television, the police arrived at Zaman Park to take Imran Khan in."
"Were the Police already informed about the nature and the decision?"
"It should also be thought that what was the need to break the house gate of Imran Khan?" he said.
"When a person goes before the police, they ask for a warrant then turn themselves in. In the case of Imran Khan, they should have presented a warrant as Khan was mentally prepared with his things packed up."
Rejecting the verdict, the PTI stalwart believed that the requirements of justice were not met.
He added: "PTI will use its right to challenge the decision by knocking on the doors of the higher judiciary."
"We will defend Imran Khan with all legal means, he said, while further adding that we will opt for all the legal ways to defend him."
"Party's core committee will issue its next line of action after the meeting, PTI bigwig said. "I am deeply hurt after hearing the decision and I am wondering where have we arrived."
Qureshi concluded: "If justice is being served then it should also be seen being served. However, it is the other way round. We went to higher judiciary but we were not provided a chance to represent and defend ourselves."
"We will knock on the doors of the judiciary whichever is available and the nation is watching."