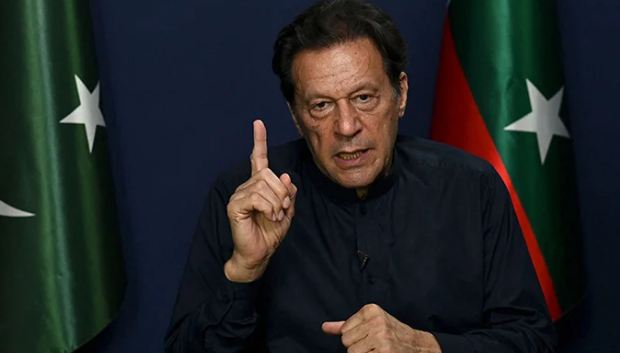 LAHORE, MAY 23: Pakistan Tehreek-e-Insaf (PTI) Chairman Tuesday termed his party leaders' exodus as "forced divorce" after senior vice president Shireen Mazari also jumped ship following the May 9 riots.
"We had all heard about forced marriages in Pakistan but for PTI a new phenomenon has emerged, forced divorces," Khan — a former prime minister who faces a slew of cases ranging from corruption to terrorism — said in a tweet.
The party's leaders have been announcing their departure as the PTI workers attacked not only public buildings but also military installations — including the General Headquarters in Rawalpindi.
The people have majorly cited PTI's "policy of violence" as the reason behind their decision for leaving the party, with PTI claiming that they were under duress.
"Also wondering where have all the human rights organizations in the country disappeared," the PTI chief said.
When the wickets began to fall recently, Khan said he sympathised with all those who were "under pressure" to leave the PTI — the party which ruled the country from 2018-2022.
"My sympathies go to all those who under pressure have been made to leave the party. And I commend and salute all the senior members who are resisting the extreme pressure to quit the party."
Not only have the senior leaders seen jail time since the May 9 violence but thousands of the party's workers have also been arrested in connection with the riots.
The army and the government have vowed that no leniency would be shown to the perpetrators who were involved in the attacks, with the military terming May 9 as "Black Day".
Chief of Army Staff General Asim Munir has also said that the legal process of trial against planners, instigators, abettors and perpetrators involved in the May 9 mayhem has commenced under Pakistan Army Act and Official Secret Act as per existing and established legal procedures derived from the Constitution.
List of leaders who have left
Former federal minister Shireen Mazari
Former provincial minister Fayazul Hassan Chohan
Ex-MPA (Punjab) Abdul Razaq Khan Niazi
Ex-MPA (Punjab) Makhdoom Iftikharul Hassan Gillani
Ex-MPA (Punjab) Mian Jaleel Ahmed Sharaqpuri
Khawaja Qutab Fareed Koreja
Founding PTI member Aamer Mahmood Kiani,
Chaudhry Wajahat Hussain
Former federal minister Malik Amin Aslam
Former provincial minister Dr Hisham Inamullah Malik
PTI West Punjab President Faizullah Kamoka
Ex-PTI central deputy secretary general for Islamabad Dr Muhammad Amjad
PTI Sindh Vice President Mehmood Moulvi
PTI Karachi President Aftab Siddiqui
MPA (Sindh) Syed Zulfiqar Ali Shah
MNA Jai Parkash Ukrani
MPA (Sindh) Sanjay Gangwani
MPA (Sindh) Dr Imran Shah
In Khyber-Pakhtunkhwa (K-P),
Ex-KP govt spokesperson Ajmal Wazir
MNA Usman Tarakai
MNA Malik Jawad Hussain
Ex-provincial minister Mubeen Khilji