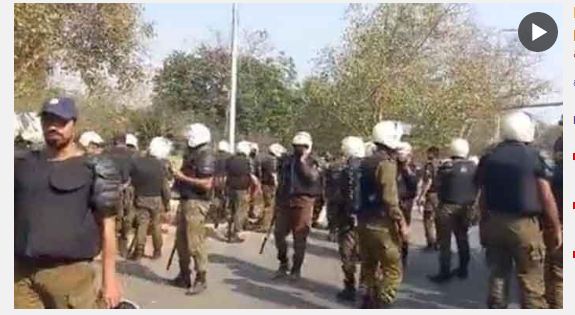 LAHORE: Law enforcers and Pakistan Tehreek-e-Insaf (PTI) workers clashed Tuesday as a heavy contingent of police reached Zaman Park to arrest former prime minister Imran Khan in the Toshakana case — the only case in which his arrest warrants are not suspended.
In light of the development, the PTI chairman asked his workers to keep fighting for the "rule of law" and ensure that they continue the struggle no matter what.
A team of Islamabad police has been in Lahore since yesterday to comply with the court orders to arrest the PTI chairman — who faces a number of cases in different cities.
The police, although observing restraint, are using water canons to disperse the party's workers as they move ahead in their quest to arrest Khan.
Key takeaways:
Protests against Khan's possible arrest erupt across Pakistan
Police fire tear gas to disperse workers acting as "human shield"
Additional riot police called in to control simmering situation
Several PTI workers arrested for rioting with police personnel
Khan tells workers to ensure struggle no matter what happens
Ruling allies slam Khan for "hiding" in his Zaman Park house
The law enforcers are in Zaman Park in line with court orders as on Monday, a district and sessions court in Islamabad restored the former prime minister's non-bailable arrest warrant in the Toshakhana case.
Last week, the IHC suspended the non-bailable arrest warrant for Khan issued by the local court issued due to the PTI chief's continuous absence and directed him to appear before the lower court on March 13 — and he failed to comply with the orders yet again.
This is the second time in less than 10 days that the police have arrived at Zaman Park to apprehend the deposed prime minister.
As the party's workers resorted to stone-pelting, a policeman suffered injuries on his face, while there were other casualties as well. Meanwhile, the law enforcers have also arrested the PTI workers and are firing teargas.
In response to Khan's possible arrest, PTI workers have staged protests across major cities — including Karachi, Faisalabad, Sargodha, Vehari, Peshawar, Quetta, and Mianwali.