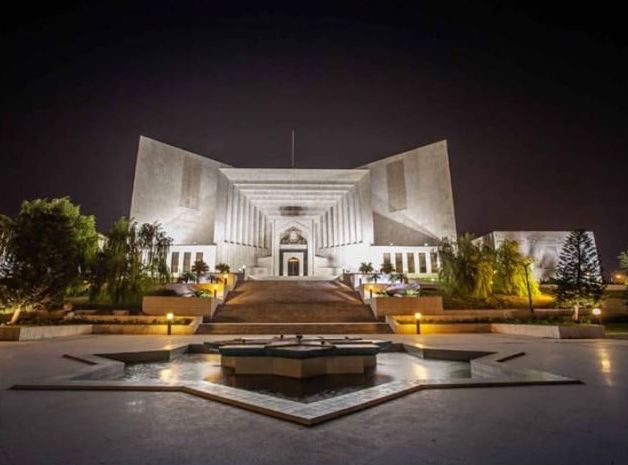 ISLAMABAD: Former prime minister Imran Khan challenged in the Supreme Court (SC) on Saturday amendments made to the Official Secrets Act and Pakistan Army Act.
Advocate Shohaib Shaheen filed a petition against recent amendments to Army Act 1952 under Article 184 of the Constitution of Pakistan on behalf of the Pakistan Tehreek-e-Insaf (PTI) chairperson.
The petition contends that the new clauses are in violation of human rights.
President and PTI member Dr Arif Alvi, the Government of Pakistan and the National Assembly have been listed as respondents in the petition, which prays the court to declare amendments in both laws unconstitutional and annul the same.
It mentions that Dr Alvi has stated on social media that he did not give his approval for both these laws to be passed.
Controversial clauses
The Pakistan Army Act 1952 and Official Secrets Act 1923 were amended last month after passing through the lower and upper houses and reportedly the President's Office.
Among other clauses, Official Secrets (Amendment) Act 2023 renders a person guilty of an offense if they intentionally create a problem of public order or act against the state.
They will also be liable to punitive action if they attack or damage a "prohibited place" with aim to "directly or indirectly benefit the enemy".
Those implicated will be tried in a special court and a decision will be taken after completing the hearing within 30 days, under the amended law.
Meanwhile, Army Act (Amendment) Act 2023 includes provisions related to retired military personnel, among others.
Under the amended law, no military personnel can participate in any "political activity" for up to two years after "retirement, resignation or dismissal", while military personnel or officers performing duties related to "sensitive nature" cannot participate in political activities for "five years after termination of service".
A retired army officer found guilty of violating Army Act 2023 may be imprisoned for a term of up to two years.
Moreover, if any serving or retired army personnel scandalises or ridicules the army on digital or social media, he can be punished under Prevention of Electronic Crimes Act (PECA).
According to the said law, any serving or retired officer who "causes defamation of the army" or "spreads hatred against the institution" will be punished with "imprisonment of two years and fine under the Army Act".
Imran's petition
The petition filed before the apex court on behalf of the PTI chief lists out the process for a bill to be enacted into law, which requires the approval of the Senate, National Assembly and finally assent by the President.
It mentions Dr Alvi's tweet, posted on X, formerly Twitter on August 20, 2023, wherein he explicitly states his contention with the amendments enacted into law and denies having signed the two bills.
"As God is my witness, I did not sign Official Secrets Amendment Bill, 2023 & Pakistan Army Amendment Bill, 2023 as I disagreed with these laws. I asked my staff to return the bills unsigned within stipulated time to make them ineffective. I confirmed from them many times that whether they have been returned & was assured that they were. However I have found out today that my staff undermined my will and command. As Allah knows all, He will forgive IA. But I ask forgiveness from those who will be effected," wrote Dr Alvi.
The tweet came hours after news broke of the two laws being enacted.
Based on Dr Alvi's statement on social media, the petition argues that the passage of these laws was unconstitutional and moves the court to expunge said amendments as due process was not followed.
It further draws the court's attention to amendments introduced in the Official Secrets Act, which empower "secret agencies to raid and detain any citizen or enter and search any person in any place without obtaining a search warrant from any court of law," terming them "unethical" and in violation of the Constitution.
The petition contends that the amendments are in violation of Articles 4, 8, 9, 10, 10-A, 19, 19-A of the Constitution, which guarantee civil liberties, including right to liberty, dignity, free speech, fair trial and due process under the law, among other fundamental rights.
A similar petition was filed by the Sindh Bar Council earlier this week, challenging both amendments and moving the court to declare civilian trials under military courts unconstitutional.
The SBC, in its petition, stated that the charging the accused persons in relation to the various acts of violence during the May 9 and 10 attacks throughout Pakistan under the Official Secrets Act 1923 and the Pakistan Army Act 1952 is, apart from being unconstitutional, patently beyond the scope of the said acts and is a colourable exercise of power and without jurisdiction.
Another petition filed two days after the president's tweet prayed the court to suspend both laws till further light is shed on the president's denial of having signed the proposed amendments into law.